Commercial Quality Office Furniture Brisbane
Fast Delivery and Assembly Available
Enter your postcode in the form below and press 'Enter' to see if we deliver to your area
Executive Office Furniture in Brisbane
Are you looking for premium office furniture in Brisbane? Then you've come to the right store as we offer some of the best office furniture in Australia. You'll enjoy the rich selection that covers the most important aspects of completing an office set up.
...
The addition of quality Office Furniture has great potential to really enhance your office space. We provide the highest level in furniture quality as that is our passion. Our wide collection of styles and designs will not disappoint in meeting all of your office needs. From
office chairs
that are ergonomically designed to high quality office desks Brisbane and everything in between, Fast Office Furniture has everything you need.
Proudly and conveniently located in Brisbane, Queensland, at Fast Office Furniture we continue to strive to work with you to create the ultimate home office or commercial office of your dreams. Our office furniture meets the needs of the modern employee to be more effective.
The furniture must be durable and last a long time after you buy. It should also keep the user safe from injury by providing ergonomic features. For example, office chairs should have premium components with ergonomic considerations to allow for the correct seating position.
Shop for Modern and Trending Office Furniture
Are you looking to add new types of furniture pieces to improve your office space? You'll be pleasantly surprised by the choice of quality office furniture units. You can improve the functionality of your office by adding more furniture. Here is an example of the furniture types you can buy from us:
Metal Storage: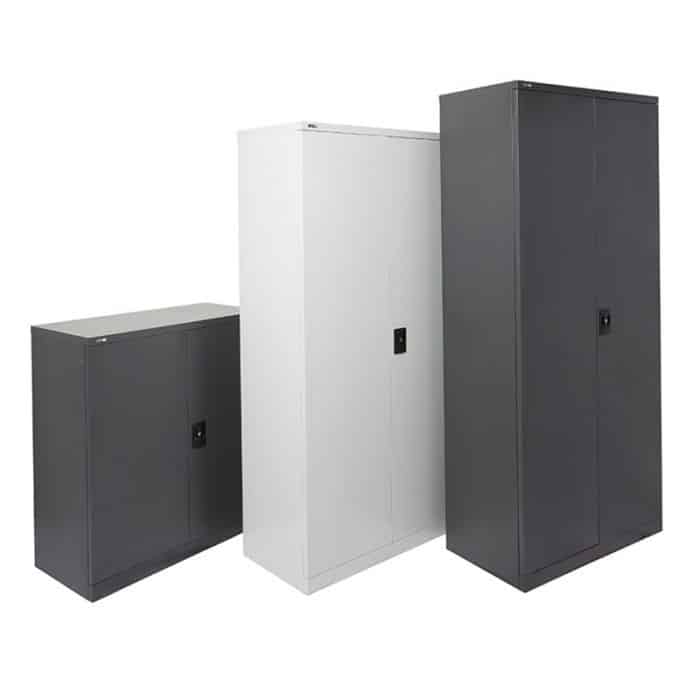 We offer a varied selection of metal storage units that can add plenty of value to your Brisbane office. The furniture types include hinged door
storage cabinets
, adaptable open cabinets, shelving units and mobile drawer units. Buy a mixture of metal storage units to increase the storage flexibility of your office space. Many of our metal storage units carry a huge 10 Year Warranty!
Office Desk: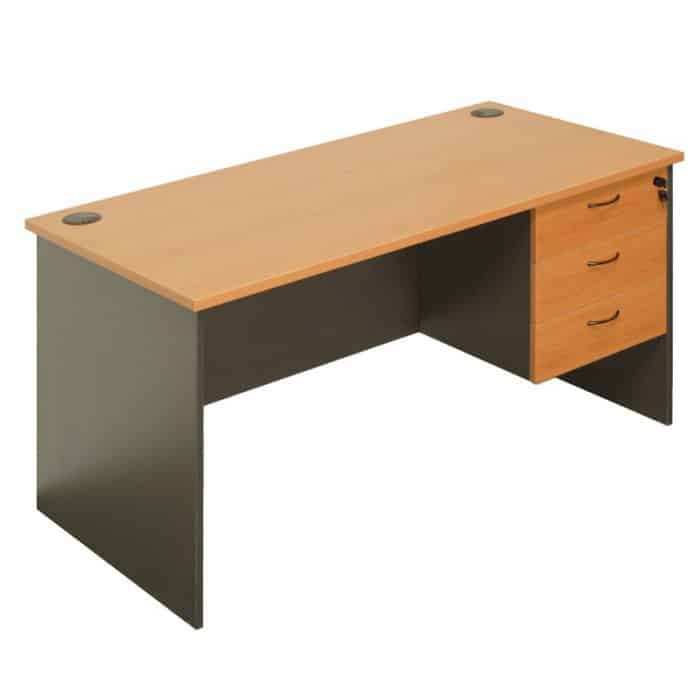 We believe
office desks
and tables should be practical to give employees the best chance of being organized and productive. For example, our corner office desks are available with optional under desk cabinets, and offer good desk space for a computer and plenty of room to work. You can also store items in the drawers to keep the office space tidy.
Office Chair: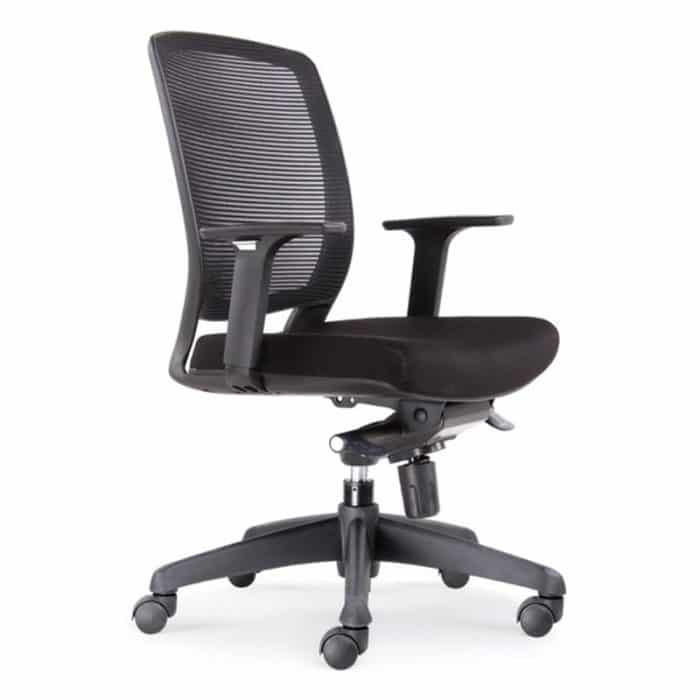 This is a tricky purchase because the features must suit the needs of the user. For example, if the chair is too small or does not offer the right ergonomic features, then the chances of ongoing aches and pains increase. We offer a rich choice of high quality,
ergonomically designed office chairs
so you will be able to find one that matches your expectations.
This is an overview of the most popular office furniture our customers buy. We encourage you to take a look through our website to see what we have on offer. We also provide leather office chairs.
Why We Are The One-Stop Destination for Office Furniture in Brisbane
Experienced office furniture professionals:
At Fast Office Furniture we are known for being the experts in all aspects of office furniture in Brisbane. This gives you the confidence that you can trust in us to provide ultimate selections as well as professional advice to assist you in making the perfect choices during the process of updating your office.
Quality office furniture at competitive prices:
Not only do we offer the best quality products that will suit any decor and budget, but we also pride ourselves on working with you to transform your office vision from just an idea into a reality. We promise to be your one stop shop, whether you are stripping back and starting from scratch, or you are looking to add specific touches that will rejuvenate your office the way it deserves. Imagine that satisfying feeling you will experience when you see your office from being bland and generic to elegant and beautiful right before your eyes. Allow us to help you get there and bring your office to life, producing a space that you will be excited to work in every day.
Premium office furniture designs:
Furniture is the heart and soul of an office design, this is why it is crucial to make the right decision for the overall appearance and functionality. We offer beautifully designed and made home office furniture pieces. It is of the utmost importance to us that each and every piece of furniture we have on offer at Fast Office Furniture is built with precision and care. We can do this without sacrificing the durability and visual aesthetics.
Fast Delivery and Superior Quality
A well-furnished office is not only impressive but also illuminates the pride you take in your work, why would you settle for mediocre when you can impress with the best. Our collections will surpass your expectations time and time again with our level of standard being second to none. Need your new quality furniture and fast?
After the convenience of having it delivered to your front door? Fast Office Furniture will have you well looked after. Proudly providing home office furniture delivery throughout Brisbane, Queensland, it is clear why Fast Office Furniture are industry leaders in this field, ensuring that you are always in capable hands.
We provide a personalised service that leaves every customer happy at the end of the transaction. We appreciate that you have many options when it comes to Office Furniture in Brisbane, however, we also know that you won't find higher quality materials, a more passionate team, a faster service, more reliable delivery or a wider selection of designs, styles, colours and textures than Fast Office Furniture Brisbane.
With our many years of extensive experience in quality office furniture, it is our ultimate goal to leave you feeling confident that you are in the right place to have all your office requirements met efficiently. From the moment you contact us to the second your beautiful new furniture arrives at your door you will be well looked after here at Fast Office Furniture.
Frequent Asked Questions
Q. Can I visit a showroom in Brisbane to inspect the office furniture?
A. We are happy to offer you showrooms in many locations, including Brisbane, where you can inspect the office furniture with your own hands. Sit in our chairs or open the drawer units and the storage furniture. You can also ask questions and our professional customer service staff will answers them. They have the time of day to make you feel comfortable in each of our showrooms across Australia.
Q. I'm not sure what furniture size I need, can you help?
A. We can help you pick the right furniture size for your office space. We understand it can be tricky to choose a table or metal storage unit that perfectly matches your available office space. We will take you through the process of figuring out what's the best furniture of your office.
Q. Do you sell office furniture packages?
A. Our furniture office packages offers logical combinations that can help you fill out an office space correctly. For example, we combine the right chairs and tables so you don't have to. Visit our office furniture packages page to find out what ones are available today. You can also contact us if you need help combining furniture into a logical arrangement.
Q. Do you sell office furniture accessories?
A. You can buy office furniture accessories to upgrade the functionality of your office. The type of accessories we sell include office screen dividers, whiteboards , ergonomic monitor arms and cable management components. We can also give you advice on what office furniture accessories are a great match for your office.
How to contact us
Have a browse of our extensive range of furniture through our website today. To find out more or if you would like to make an appointment, contact our wonderful staff today, either by phone 1300 FAST OFFICE (1300 327 863) or by email [email protected]
Create the office you have always wanted today, with Fast Office Furniture Brisbane.
Brisbane Address:
133, Queen Street, Cleveland. Qld 4163

FINALISTS IN THE TELSTRA AUSTRALIAN BUSINESS AWARDS
Our Office Furniture Collections
Trusted by many of Australia's leading organisations…