Real estate gets more expensive by the day, so it's no surprise that waiting rooms and reception areas are quickly shrinking. But, whether you're seating patients or you're making a space for guests and visitors, you can fit a lot more than you think into a small office space.
These are nine options to make your office shine and why you can make any reception area into a dream space.
1. Nicole Chair Seater Lounge and Ottoman
This three-piece set offers a lot of class and style without taking up far too much space.  The modern squared-off designs give a sleek look, while the button designed seats and ottoman top offer comfort and welcome anyone waiting for their appointment.  The elegant man-made leather surface is modern and gorgeous while also being incredibly comfortable to sit on.  Paired with the chrome support legs, this set will wow anyone who sees it, and is proving a very popular choice.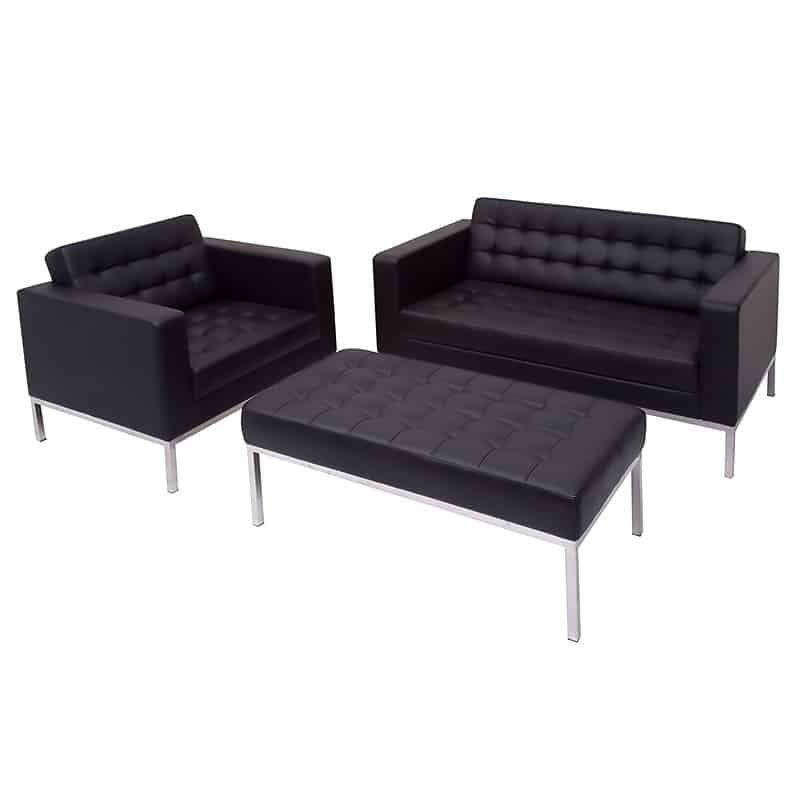 2. Liam Tub Chair and Liam 2 Seater Lounge
If you want your waiting room to have more personality and quirk, you're not alone!  Consider the Liam tub chair and lounge package!  Coming in a gorgeous red fabric, it's energetic and fun while also being incredibly comfortable to sit in.  The three-year warranty on these ensures they'll be satisfied for years to come, while the easy to clean fabric allows you to keep it looking brand new as long as you want.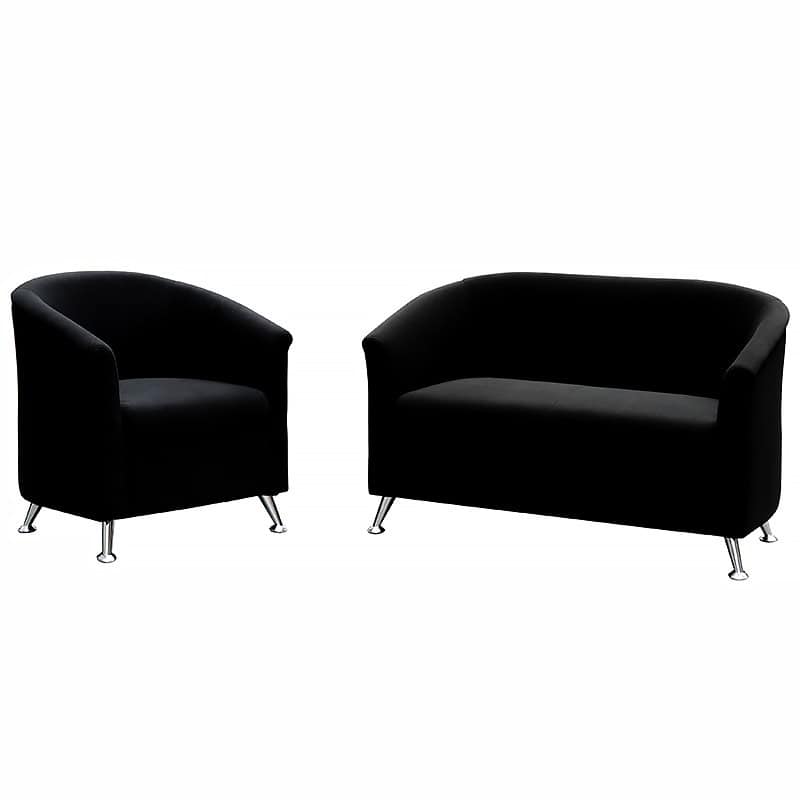 3. Daydream Chair and Seater Lounge
These beautiful classic modern cube style seats are unlike anything else.  This reception lounge furniture emphasises 'lounge' because of the comfort and visual appeal they have.
Chrome accents frames the seats and give them a sleek and gorgeous appearance as the metal starkly contrasts against the black.  As a set, these fit perfectly into any small waiting room and offer a chance at comfort and utility while being visually stunning.
These are best for any technology company or startup that wants to impress its clients on sight.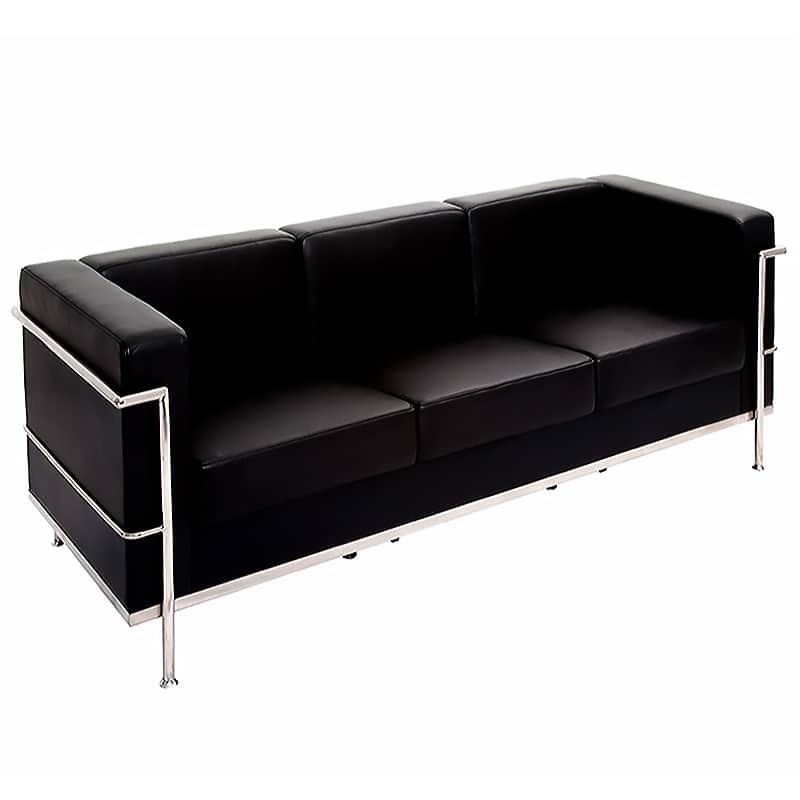 4. Chelsey Chair and Stacey Coffee Table
If your office is small and you don't think you can fit a larger lounge, consider the Chelsea chair and Stay coffee table set.  The chairs come in red or charcoal fabric colours, allowing a custom look based on what your office needs and the gorgeous Stacy coffee table can come in white, oak, cherry or beech colours which ensure it will also match anything that you want it to fit.
This set doesn't take up a ton of room but gives visitors a place to sit and put their things while they wait.  The table is an ample space to set reading material, and the seats are comfortable enough that your visitors won't want to leave!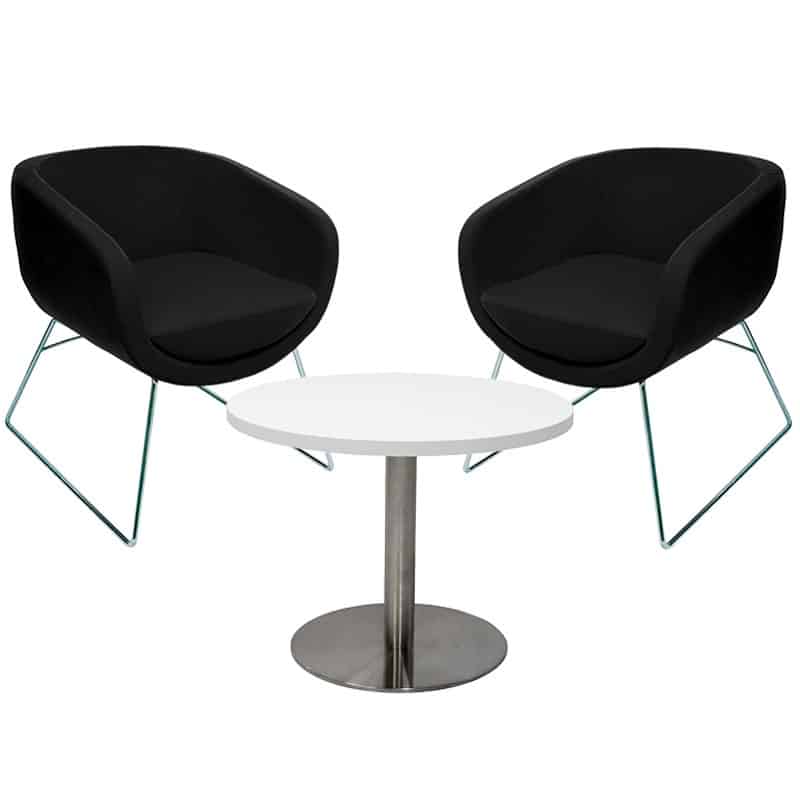 5. Dee Leather Chair and Lounge
The Dee leather chair and lounge is a fantastic pair that gives off the look of an optical illusion at first sight.  Appearing tilted, despite the seat being completely parallel to the ground, these seats are pieces of art that would go extremely in any art gallery or modern consulting business.
The seats are available in either soft black or red leather, depending on which look suits your company better, and the three-year warranty on these promises that they're built to last.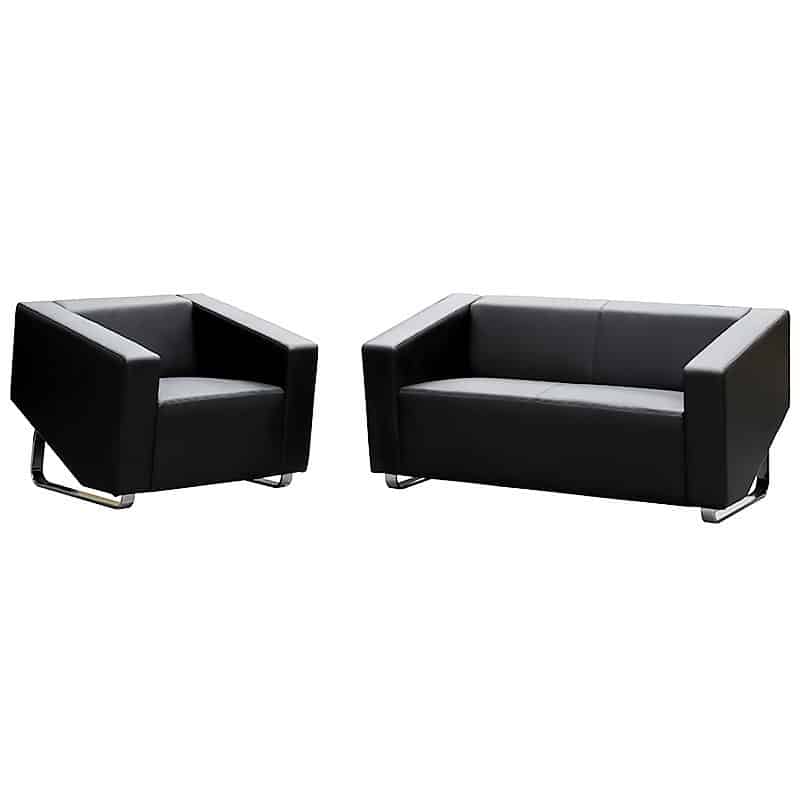 6. Infinity Reception Desk
If you want to wow visitors while giving your receptionist a fantastic workspace, the Infinity Reception Desk can offer a great chance to do that.  This curved deck makes a great workstation to grab the attention of anyone who walks into the offices while also having tons of storage and a workspace that ensures nothing gets lost or misplaced.
Optional drawers can be purchased along with it, but this desk is both stunning and easy to build, which means it can be set up in your office in no time.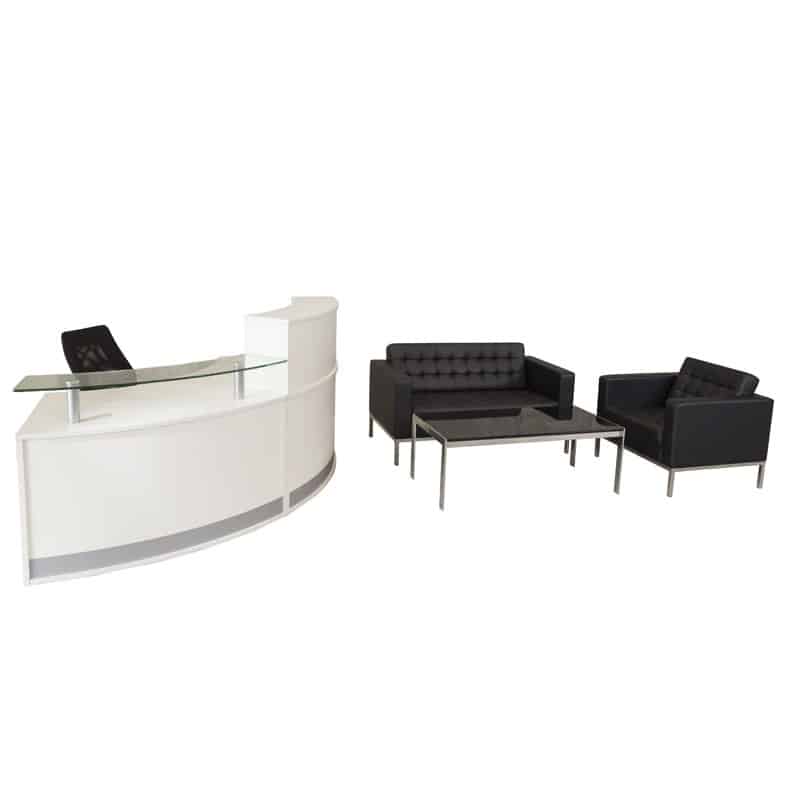 7. Stacey Round Meeting Table
Although this is a meeting table, this small round table with comfortable seats can be a fantastic addition to any waiting room.  With four chairs and a beautiful table, this is an awesome option for a company that doesn't expect many guests but wants them to feel comfortable and welcome while they're there.
The seats are customisable, with black and grey seat cushions, and the tabletop comes in a large selection of colours from natural white to cherry, depending on your taste.  This is a fantastic choice and a must-have for most small waiting rooms.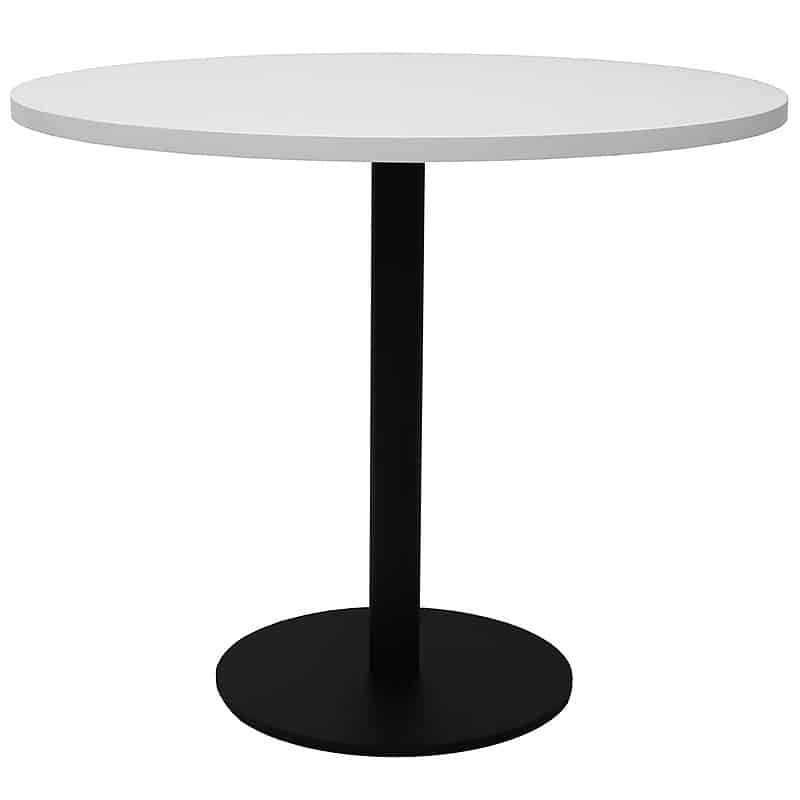 8. Function Desk
If you want your receptionist to have ample workspace but can't fit a large table, the Function Desk may be what you're looking for.  This desk is sleek, smaller, and extremely sturdy.  With drawers that allow for materials to be locked away if they're not immediately necessary, this desk can be a highly functional receptionist's desk that will enable them to complete all of their essential tasks without taking up too much office space.
Commercial quality melamine construction ensures it'll stand most trials in the waiting room, and will be an attractive way to welcome guests into the office.
9. Stacey Dry Bar High Table
Like the round meeting table with seats, the Stacey Dry Bar High Table is great for small offices: yet is even smaller.  Coming with two Angela bar stools that look modern and are incredibly comfortable, this gives guests a place to set their items while taking up as little space as possible.
The seats and tabletop come in various colours, allowing you to pick finishes and styles that suit your tastes.  Although these are incredibly futuristic-looking and modern, they're fun to add to any office, perfect as a casual meeting option.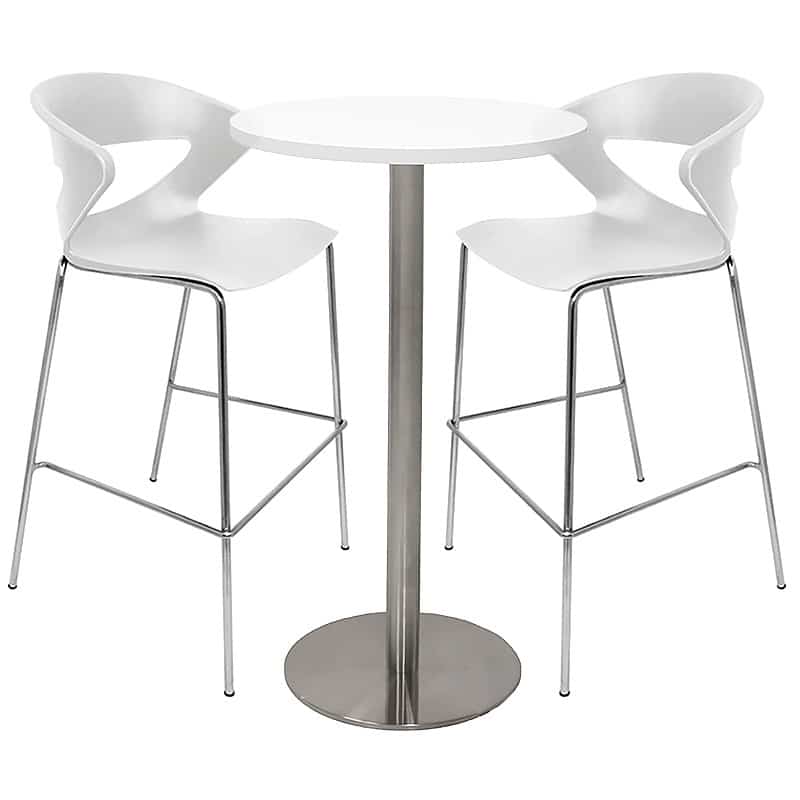 A Small Waiting Room Doesn't Have to be Minimal.
If you have a small waiting room, it's not the end of the world! On the contrary, the smaller the waiting room, the easier it is to make it feel classy with what you can fit in. Pay attention to the shape and colours you use, and you can create a space that feels welcoming to clients and future employees at the same time. A reception room is the first taste many get of your business: make sure it's impressive!