Commercial Quality Office Furniture Dandenong
Fast Delivery and Assembly Available
Enter your postcode in the form below and press 'Enter' to see if we deliver to your area
Buy Office Furniture in Dandenong
A suburb of Melbourne, Dandenong is on the upswing, drawing more people and business as the area evolves into a better commercial and business-central area. A longstanding hotspot for culture and diversity, this suburb has finally taken its first steps towards becoming a true business district.
With all the up-and-coming businesses as well as some main-stay companies which have been there for years, Dandenong has a need now more than ever for premium, high quality office furniture. At Fast Office Furniture, we are more than happy to supply our products to everyone and anyone who is ready to create a beautiful work environment.
We love to form new customer relationships, striving to offer excellent service and keeping communication open and honest to ensure that a customer today is a customer for life. We have numerous reviews from happy customers, some of whom are based in the Dandenong area.
What Office Furniture Do We Provide?
Some companies specialise in tables, others in
ergonomic chairs
; as for us, we specialise in absolutely everything. All you have to do is browse through the categories on our website to see that we have furniture to suit any style, mood, and office-type. Shop with us and we'll ensure that your office layout looks exactly the way you envisage.
Here are just a few of the many types of products we offer in order to give you an idea about just how versatile we are.
Industrial Seating
A chair can be the most comfortable chair in the world, but that means nothing if it breaks in the first six months. Industrial chairs and stools are made to last, engineered to support a busy workspace and to accommodate heavy use over an extended period of time.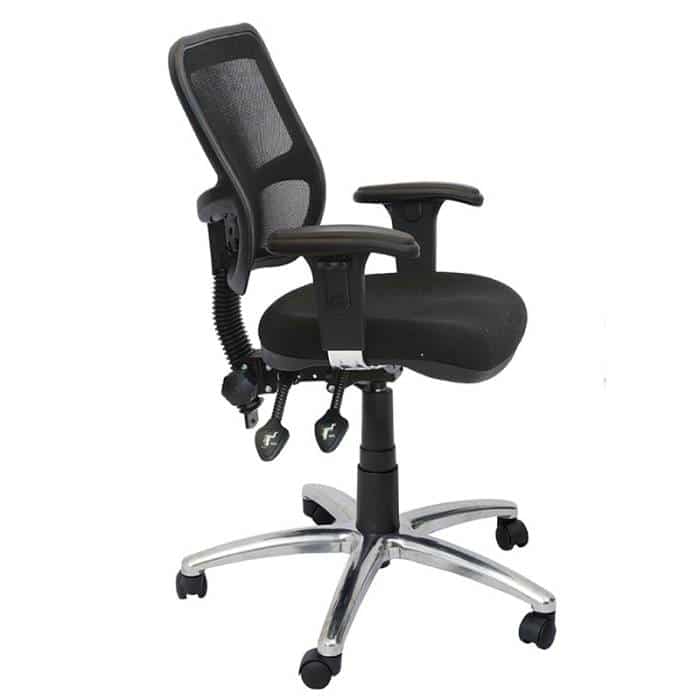 While you may be thinking that they don't sound particularly comfortable, that's because you haven't tried our chairs yet. Here at Fast Office Furniture we believe that even the sturdiest of chairs should be built with comfort in mind. See below for the section on visiting our showroom where you are free to sit in our chairs and trial them to see if they suit your needs.
Adjustable Desks
Nothing says 'modern office' more clearly than
adjustable desks
. The angle of our head and neck when working at a desk is crucial to prevent long term health issues. While this can partially be prevented with adjustable chairs and computer arms, both of which we also sell, having a desk which allows you to readjust your working position, can increase your comfort and prevent neck and back tension.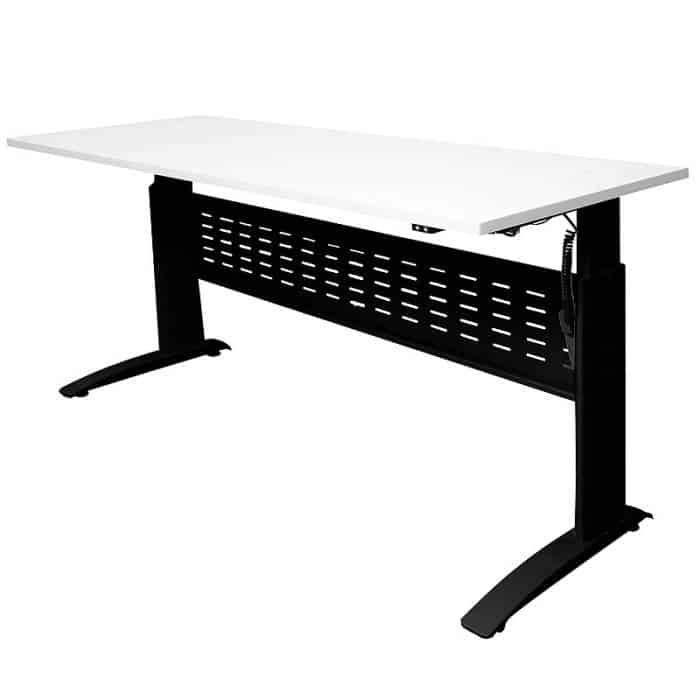 Our height adjustable desks are built to offer maximum performance at any height to keep you working safely and comfortably.
Acoustic Solutions
We all know how noisy an office can get, especially one with many people sharing a space without walls. The louder an office is, the less work gets done. Even if staff are exclusively talking about work, the conversations can still distract employees who are trying to get on with their own tasks.
Our acoustic solutions are designed to reduce noise between areas of the office, desks and workstations, utilising dividers to ensure that everyone stays uninterrupted and on-task all day long.
Our Furniture Ranges
Nothing says professionalism like a dedicated furniture range. When somebody enters your office, the first thing they'll notice before even meeting employees or seeing reports is the décor.
With our dedicated furniture ranges, you can ensure that the design and colour of all of your office furniture remains consistent. For those looking to make the most out of their limited office space, consider the Space System Furniture Range. This beautiful range can create a comfortable and aesthetic place to keep employees happy and motivated, while allowing optimal use of the available space.
Visit Our Showroom
If you're in Dandenong, then our closest showroom to you will be the one in Laverton, Melbourne. Our warehouses and showrooms are in all the main metro areas of Australia, with multiple locations across the country to ensure we can do business with and deliver to companies of all types across all locations.
Head on down to our Melbourne showroom at Building 3, 9-19 Leakes Road, Laverton North Victoria 3026. We take in visitors with an appointment only, so make sure you let us know when you'd like to visit. Get in touch by email at
[email protected]
or by phone on 1300 FAST OFFICE (1300 327 863).
Once we know you're headed our way, our highly knowledgeable staff will be ready to personalise the experience for you and will be happy to provide you with any assistance you need. Once you've seen what we have to offer, we're certain you'll leave confident enough to make a purchase with us.
Why Shop with Us?
There are so many reasons to shop with us, we hardly know where to begin. We have amazing delivery policies in place to ensure that your furniture will get to you quickly and efficiently, with no extra costs for us delivering furniture to higher floors.

Furthermore, our phenomenal customer service has landed us a spot as one of the best office furniture suppliers in the country, and we're proud to say we have over 30 years of collective experience in the industry. For cost-efficient furniture that'll stand the test of time, make Fast Office Furniture your primary supplier.

Frequently Asked Questions
There can be a lot of questions surrounding the process of buying office furniture – every company offers something different and so it's good to be know what we are about. To help our customers with their decisions we've given the answers to some of our most frequently asked questions which you can find below.
Q. Does Fast Office Furniture Deliver To Dandenong?
A. We're happy to say we deliver to Dandenong on a daily basis. Since we have one of our main warehouses in Melbourne, we'll be able to send your furniture directly from our warehouse right to your front door, meaning you'll receive your order quickly and efficiently.
Q. Do I Have To Pay Before I Receive My Items?
A. Generally yes, we do require that payments are made before we deliver your furniture. Schools and government departments automatically qualify for a 30 day credit account. We also offer a 30 day account to businesses which are unable to pre-pay for goods. Contact us for more information or if you would like to open an account with us!
Q. How Much Is Delivery?
A. We generally charge a flat fee to most metro areas. Just pop your postal code into the Delivery section of the website to confirm whether you qualify for our super cost effective deliveries.

FINALISTS IN THE TELSTRA AUSTRALIAN BUSINESS AWARDS
Trusted by many of Australia's leading organisations…