Cable Management Tips For Your Office
Are you having trouble trying to figure out how to manage your cables in the office, but have no idea where to start? Then you'll benefit by taking advantage of products such as our cable baskets and cable trays that enable you to organize cables and leads no matter the size of your office space.
There are several good reasons for investing in cable management products such as improved office productivity and achieving a professional look. No matter the size of your office space, it's important to manage cables to avoid the situation getting out of control and looking messy, and potentially a trip hazard – and therefore dangerous.
Why Cable Management is Important
Productivity boost: It's not ideal to work in an environment that's cluttered and disorganized. Office surroundings should be organized because it promotes clearer thinking. It's been said by psychologists that tidying up your room can help you get motivated to be more productive and the same can be said for office spaces.
Lower signal interface: It's possible that electromagnetic interference can result when data and power cables are running close to each other. That leads to data loss or poor quality conference call signals.
Maintenance: Tt's hard for efficient maintenance to take place when cables are randomly organized. Technicians should have direct access to cables they want to find quickly. The quicker they can execute maintenance tasks the quicker you can get back to work.
Damage: There is less chance of cables getting damaged due to sharp edges, bends and high heat. Mapping the cables allows them to be safely routed so they are not prone to damage.
Scalability: Is your office constantly growing? Then proper cable management allows your office space to be properly set up for growth. You'll know where to put the next nodes of the network to ensure that you can route cables for the required hardware.
With so many cable management advantages, it's a no-brainer to get started right anyway. Keep in mind that figuring out your cable management at the start is easier than doing it once your office is fully set up.
1. Cable baskets: How to Choose The Right One
Cable baskets provide all of the management advantages described above, but choosing the right one can be tricky. They need to match your required use correctly so that you can get the most out of your cable trays. Here is a summary of the buying factors you need to consider when you want to buy cable baskets:
Size: make sure the size matches the space where the basket will be placed. For example, if they are placed under a desk or table, then consider the leg room. It would be counter-productive if the office worker's leg kept hitting the cable management basket. The tray needs to be big enough to provide proper cable management for surrounding hardware, but no too big so that it sticks out too far.
Colour: Ideally the basket should blend in with your environment, so choose an appropriate colour. For example, if you have white desks and cables, then make sure to buy white cable trays and baskets. Here at Fast Office Furniture we offer black, silver and white. Choose the one that's a perfect match for your office interior design.
For example, if you have a white table top or desk top, a white cable basket may be your best option, bit a dark or black desk or table base may look better with black cable baskets – so they blend in and disappear into the background.
Power options: consider the amount of power outlets you need in each location. The trays can accommodate 2 or 4 power outlets as standard, but more can be added. You need to choose the quantity that will help you meet all power needs for the hardware.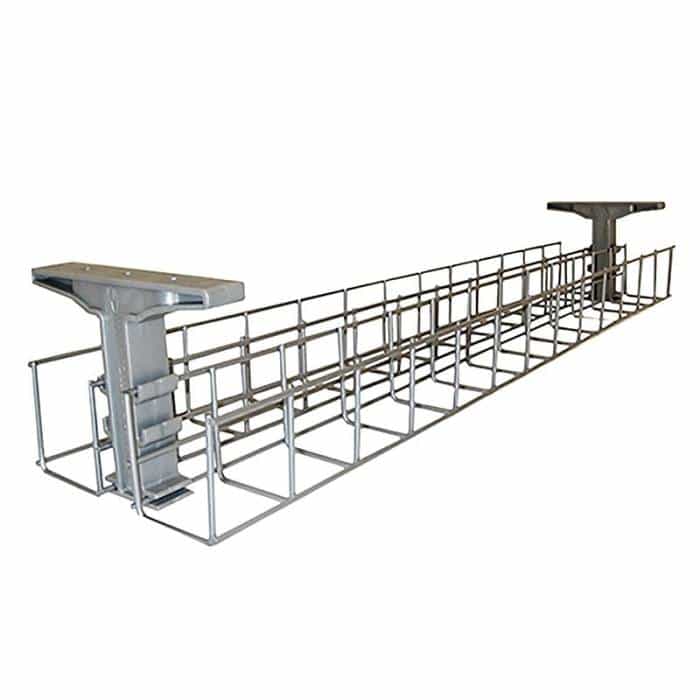 It's a smart idea to buy more baskets and trays than you anticipate you'll need for the office. That's because you never know what new equipment will be installed that requires cable management. Therefore, having a few spare cable management baskets and trays stored away in your office is a smart idea.
2. Where to install cable management products?
It's important to install cable management products in the right locations so you get the most out of them. Here are 3 things to keep in mind when choosing a suitable location.
1. Understand that your needs will change as time goes on, so you can change the location at a later date. It's natural to move and relocate office furniture and cable management solutions as time goes on.
2. Plan out the cable management using software or as a simple drawing. Having a visual plan allows you to spot weaknesses that can be adjusted before cable management begins.
3. Choose locations that allow your office to grow naturally. Think about where future nodes will go so you don't have to rearrange the setup every time you need to add more office hardware to the existing arrangement.
Frequently Asked Questions
Q. How many cable trays and baskets do I need?
A. If you are having trouble figuring out how many cable trays and baskets to buy, then contact our customer service team. They can help you make the right buying choice based on your office specifications. You will usually need one basket per workstation. Therefore, it depends on how office computers are set up. Buy a few more units than you need to be on the safe side.
Q. What cable tray colour should I buy?
A. We recommend buying a colour that matches your office furniture. When basket trays are not hidden they are not the most attractive item of furniture to look at. We offer silver, black and white basket.
Q. Are power leads included with the cable trays?
A. No, soft wire power leads are available to purchase separately.
Q. What's the difference between 'Type A' USB's and 'Type C' USB's?
A. The new 'Type C' USB's are faster than the older 'Type A'. Please see this article for more info.