Office Corner Desks are generally L-shaped desks that offer a large workspace to the user. They can stand alone – slot neatly into a corner of the office, be placed in the middle or off-center – or they can be assembled in pods that fit closely together thereby saving a lot of space. If installed as part of a pod, corner office desks can be fitted with desk-mounted screens, thereby creating a quieter, more private space to work.
Corner Office Desks Buying Guide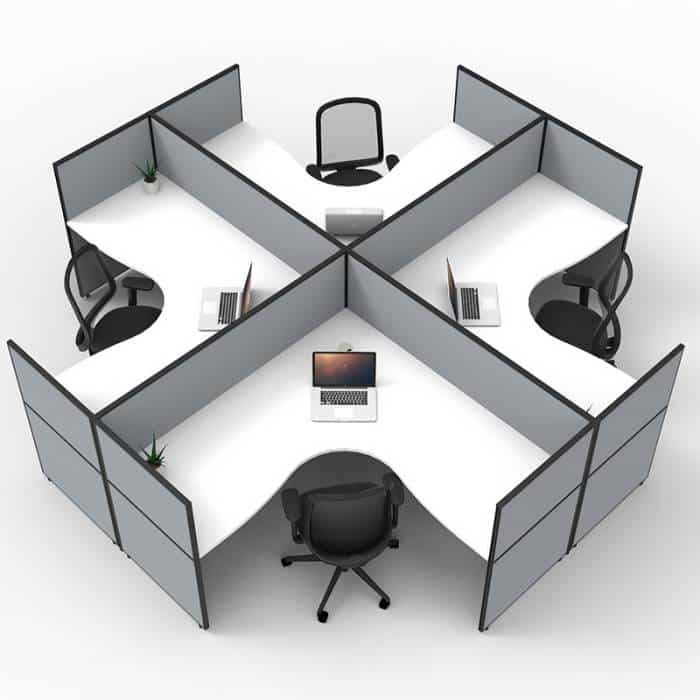 No office furniture item has changed more than the humble desk. The look, size, and features of desks have continuously changed over the years and have morphed into the modern, sometimes minimalist, and streamlined styles we have today. The desk was the forerunner to the corner workstation and today corner office desks are more popular than ever. Let us find out a little more about them.Whilst most desks have always been of a fixed height, sit/stand desks and corner workstations have steadily been gaining in popularity. More and more research confirms that our sedentary lifestyles and work habits are putting our health at risk. Many companies are now investing in height adjustable desks and corner workstations to combat the real issues associated with their workers sitting all day long.
A small slice of history
Office furniture has evolved greatly over the past century. In the early 1900's offices were set up to service burgeoning commerce, shipping and retail industries. At that time, desks were crowded together into rooms or 'offices' and nothing much changed until the 1960's. In the 1960's a new approach developed alongside a new social awareness and desks were grouped together according to the work being carried out – clerical, sales etc. This made offices run a little more efficiently. The next major shift occurred in the late 1960's with the introduction of screens and 'cubicles' or pods as they are known today.
Types of Corner Office Desks
1.Height Adjustable Corner Office Desks :
Height adjustable corner office desks are as diverse and varied as their fixed-height counterparts. They are available in all colors, sizes, and shapes. Some sports built-in cable trays to keep cords tidy, others have Bluetooth capabilities and rechargeable batteries to enable portability. There are options that have memory settings and electric push button controls for ease of use. Gone are the days of manually winding up your sit-stand desk, although some of these are still available at a lower price point.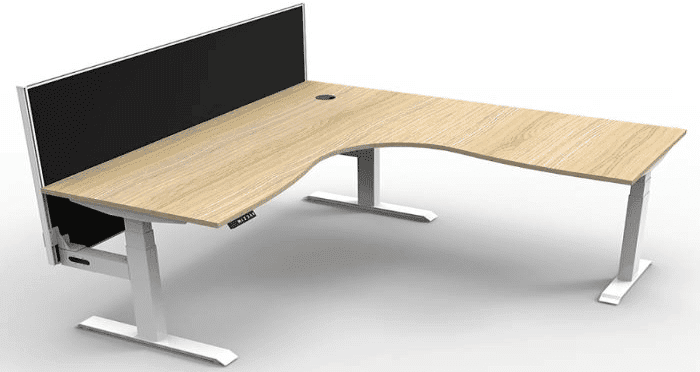 2.Storage For Your Corner Office Desks :
Most workers today need some storage close to their desks. We recommend purchasing a mobile drawer unit that fits comfortably under the desk and provides excellent storage space for each individual person. Bookcases, storage cupboards, and credenzas are all very good options for shared storage in an office i.e. items can be stored here that everyone needs access to e.g. stationary, files, brochures, printer paper, etc. etc.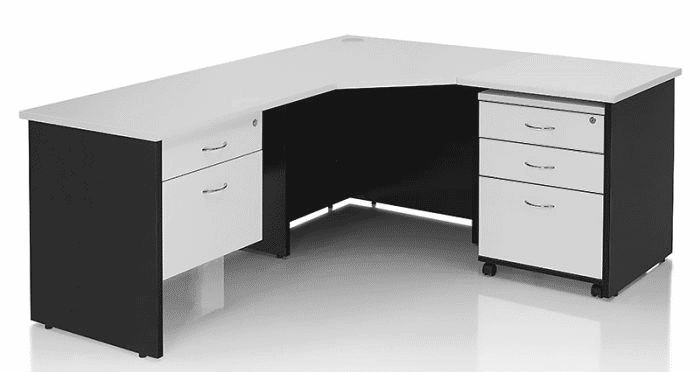 Read More
Shop L-Shaped or Corner Office Desks
Contact Us
Please take the time to visit our website – www.fastofficefurniture.com.au where you will see that finding the perfect corner office desks for your workspace has never been easier. If you have any questions or need some assistance on how best to utilise your space, please give us a call on 1300 327 863 or email us at sales@fastofficefurniture.com.au
Frequently Asked Questions
Corner office desks or corner office workstations are very different to straight office desks. Most corner office desks today allow you to sit at the 'inside corner', giving you easy access to a 'wing' on your left and right hand sides. The natural advantage of this is that you have a lot more space but you can also essentially 'divide' your worktop space into two parts, greatly assisting with organisation and task management.
Corner Office Desks are available in many sizes. The smallest standard sizes are usually 1200mm x 1200mm and the largest go up to 2100mm x 2100mm. Bigger sizes can be supplied, but these would usually have to be custom made. Choosing the correct size for your corner office desk is easy. You just need to measure your available space, taking into account any doors, windows, columns and skirting boards. Once you have determined the available area you have, you can select the size that best suits your space.
Corner Office Desks are all L-shaped, but that is where the similarity ends. Some corner workstations have a one-piece top; some have two and others even three. The advantage of a one-piece top is purely aesthetic as there will be no visible joins on the desktop. However, all versions work just as well as the joins are usually very neat and unobtrusive. All corner office desks also have an angled keyboard area where you can sit to work, however, some have curved wings and some are straight.

Again, there is no real difference in the functionality or the corner desk, just in the overall look. Straight desks can be turned into corner desks by the addition of a desk attached return. This combination will look slightly different to a corner workstation, in that you will sit at the desk and then have a 'wing' on either the right or left hand side. Whilst the look and feel is a little different, the added space afforded by the desk attached return is a big bonus and is usually very welcome.
There are many variables when choosing corner office desks. Apart from the size, there are a myriad of options for the top colour, frame colour, type of legs and type of top. For example, do you prefer a timber veneer or a melamine look? Do you like dark, moody colours or is your preference for something light and bright? Would you rather have a cable hole for your cords, or do you like the scalloped cut out look? Are you drawn to a more industrial feel e.g. chunky metal legs; or do you prefer a sturdy timber frame? Also available are 'splayed leg' options as well as a modular type look with straight or loop legs. All these choices are available plus many variations, so it is best to do some research before you finalise your decision.