"The high level of service Fast Office Furniture demonstrated and the quality of product, I am sure you guys will be in business for a long time!" - October 2018

"The gentleman who delivered and installed our desks and drawers yesterday was friendly, efficient and obviously an asset to your company" - October 2018

"Thank you for the prompt delivery of the furniture I recently purchased. Online ordering was very easy and the delivery drivers where very friendly and approachable" - October 2018

"Excellent. Very happy and thanks for your help" - October 2018

"Delivery ran so smoothly and the whiteboards have all been installed thanks" - October 2018

"I am very happy with our office furniture purchase and also the email updates about delivery dates – much appreciated" - October 2018

"The guys were here early and were fantastic! They are the best ones we have had so far! They got the job done and didn't leave any mess" - October 2018

"It all went smoothly. The delivery guys were great and got it done really quickly which meant minimal impact to our business" - October 2018

"Everything ran smoothly and I'm really satisfied with the outcome. The delivery man was excellent which was a pleasant surprise!" - October 2018

"Everything was fantastic. A big thank you to the gentlemen who assembled everything" - October 2018

"Your delivery person is a gem. He is an absolute credit to your business" - October 2018

"Just confirming that everything went smoothly. You were extremely helpful. I knew it was going to be a timely process as you were very professional, polite and patient - so I thank you" - October 2018

"All went really well thank you. The guys were lovely and did an excellent job!" - October 2018

"The chairs are beautiful and I love them! Delivery was very quick and I would use your company again! It takes much to impress me and I AM impressed!" - October 2018

"All went smoothly - delivery, moving them inside and unwrapping. Driver was very friendly thank you" - October 2018

"I deal with a lot of companies / contractors. If all of them were as good as you guys, I think I'd get twice as much work done!" - October 2018

"The delivery men were extremely polite and easy to deal with. Fantastic service all round! Well done!" - October 2018

"We were impressed with the delivery and the communication. We were amazed at the speed at which you delivered, literally within 24 hours of ordering!" - October 2018

"Delivery went very smoothly. The delivery boys were absolute gentlemen and I could not be happier with all your service. Thank you for being so well organized it is really appreciated" - October 2018

"We are very happy with the delivery of the new office chairs. It was a smooth process and I really appreciate you taking the time to ensure customer satisfaction" - October 2018

"We will need more bits and pieces over the coming months so we will definitely be coming back, and be recommending Fast Office Furniture to anyone we know that needs office supplies" - October 2018

"Your guys that delivered the furniture were polite, efficient and even cleaned up after themselves!" - October 2018

"You've been very patient and wonderful to deal with – despite all the changes we made. You easily changed our delivery date and gave a pretty accurate delivery time" - October 2018

"I can quite happily say that the delivery and assembly of the new office went seamlessly. The whole experience from start to finish has been fantastic" - October 2018

"All delivered quickly and efficiently, and it all looks great" - October 2018

"Everything went well and smooth. The assembler was very helpful - I asked him to assemble in an unorthodox manner due to my set up and he was happy to comply" - October 2018
AFRDI Approved Chair – So What?
AFRDI Approved office chairs are tested to the Australian New Zealand standard. This is based on European standards and in some ways is even tougher – chairs that comply with AS/NZS 443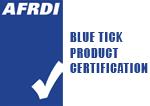 8 are ergonomically sound, tough, durable and safe
Ergonomically Sound
Ninety percent of the population – everyone other than the shortest 5 percent and the tallest 5 percent – should be able to adjust an AFRDI Approved chair to provide a comfortable work seat. The standard sets out a range of adjustments required for seat height, seat tilt, lumbar support and arm heights.
Tough
Chairs are measured using a special 'dummy buttocks' that takes into account the compression of seat foams and gas springs.
The effects of 'normal abuse' are reflected in the standard with a range of forces being applied ten times for 10 seconds each –
• Someone standing on the chair (160kg for Level 4 and 200kg for Level 6)
• Someone sitting on the arm (90kg for Level 4 and 120kg for Level 6, and there is a test for pulling the arms outwards as well)
To simulate rough treatment, the chair is dropped 10 times onto one leg (from a height of 300mm for Level 4 or 450mm for Level 6). In other tests a special 25kg weight is dropped five times onto the seat (from 240mm for Level 4 and 350mm for Level 6), and a 6.5kg hammer is swung through an arc of 1m onto the sides of the arms and the back of the chair.
Durable
Machines are used to simulate someone sitting on the chair, performing about 25,000 'sits' per day, non-stop.
For Level 4 there are 100,000 sits performed with a seat load of 95kg. That is the equivalent of a user sitting on the chair 5 times every hour over a 38 hour week, for 52 weeks a year, over a ten year period.
Level 6 is even tougher – 200,000 sits with the equivalent of a person weighing 120kg.
The durability of the action, the castors and the swivel mechanism are tested separately.
Safe
The standard includes a requirement that there be no features that can cut or trap the user or anyone else in the vicinity of the chair – something that home office users with children might appreciate. There are tests for stability as well.
The Blue Tick means that It's Independently verified
The Australasian Furnishing Research & Development Institute (known as AFRDI or Furntech) is an independent, not-for-profit organisation whose Blue Tick logo is a registered certification mark. Not only do the chairs have to comply with the standard, the supplier must agree to have their brochures and production checked on an on-going basis. Further information is available from Furntech or (03) 6326 6155