You deserve the best! Allow Fast Office Furniture to provide you with our premium executive desk range that gives your office space the perfect addition of elegance and class. Create a wonderful impression with high quality, sleek designs that will have everyone in awe. Our Executive Desk collection is where durability, versatility and style meet effortlessly.
Buy Executive Desks For Your Office 
Are you in the market for an executive desk, but you have no idea where to buy? You've come to the right place because we offer some of the best office desks for executives on the market. Take the time to browse through our executive range and you are sure to spot a model that matches your expectations.
You can also give our customer service department a call to ask questions. The number is 1300 327 863, they have the experience to provide actionable pointers. It's handy speaking to a professional that may understand the executive desk you need for your Melbourne office.
We have showrooms scattered around most cities of Australia where you can visit to check out our range of executive desks. This gives you a chance to touch and feel each desk before ordering. Also, our friendly staff are there to take questions and give you pointers about the right desk to buy for your office.
Read on to learn more about your buying process.This helps in choosing the right model for your list of requirements. The factors we cover include price, build quality, size, and visual aesthetics. You have a very good chance of choosing the perfect desk when you consider these factors.
Executive Desks Buying Guide
You'll need to answer a few important questions before you can buy the right desk. For example, what kind of person is using the desk and what does the office look like? Ideally, the office style matches the interior décor so that there is consistency.
Also, what is the size of the person sitting at the desk? Taller people may need bigger desks and vice-versa. The chair also has to match the desk height so that you can get the right ergonomic setup. Otherwise, you might struggle to sit and work for multiple hours at a time.
1. Price – How much should you spend
Executive desks are generally higher quality, but you don't have to break the bank to buy one. Check out our range and you'll find a selection of affordable executive desks. The high-quality wood finish used in our office furniture is of premium quality, which is one of the main contributing factors to the cost.
Need to buy a larger quantity of executive desks in one order? Then you can contact us for a quote on bulk pricing. We want to give you the best deal online. You'll be hard-pressed to find a better quality executive desk at a lower price.
2. Build Quality – How long will it last
Build quality is a matter of material quality and how they are combined in the factory. Investigate the high-quality images in our product description to assess the quality. It's the next best thing to physically inspect the units in person.
Furthermore, check out the warranty to determine how much faith the manufacturer has in their product. The number of years should be at least 3, but upwards of 5-10 years is better. Also, read the fine print to determine exactly what is covered under warranty. We think you'll be pleasantly surprised, we offer a very comprehensive product warranty.
3. Visual Aesthetics – Does the desk look impressive?
Executive desks should look spectacular if you are to invite potential clients and other visitors into your office. Imagine walking into an executive office and the furniture looks cheap – it's not a great look. We provide desks that look amazing and will impress your clients.
Premium quality timber finishes is always a great choice that adds character to the interior décor, and always impresses. However, there are a lot of timber species and colours to choose from. Give us a call and share the type of office that you have. Perhaps we can give you advice on the best desk style for you to select.
4. Size – Will it fit in my office?
The office table size should be a good match for your office dimensions. If you have a large office with a lot of open space, then get a bigger desk should work well. On the other hand, don't go for a large one if there is a lot of furniture that could lead to a cramped feeling. The modern trend is towards minimalism an open planning in the office to reduce clutter. It's now possible more than ever before because you can store everything you need on a laptop or desktop.
The desk size dimensions are displayed on the product description page. Compare this with the amount of space you have to work within the office. Take special note of the height as that plays a key role in ergonomics. Opt for a height that matches the executive and the chair.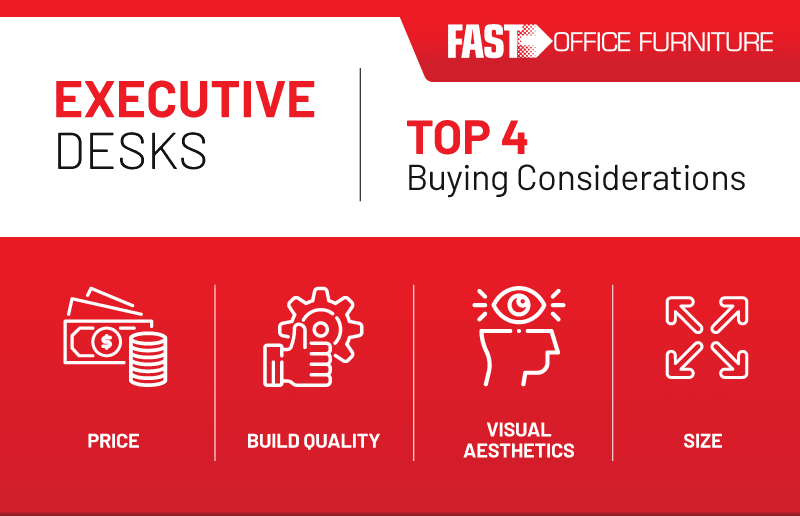 Frequently Asked Questions
Q. Do you offer executive desks with storage compartments?
A. Yes! Most of our models come with matching drawers and storage units where you can place items to remove the clutter on the desk. They add to the price and size of the unit but are worth the investment. Opting for an executive desk with drawers is a good idea if you lack the room in your office for stand-alone drawer units.
Q. Do your desks come with customizations?
A. We believe in offering our customers choices so they can buy the executive desk that makes them happy. Therefore, you'll find options on the product description page to customize the desk to fit your needs. The customization options include choosing the color, size and return. However, the available options depend on the model you're interested in. Please contact us for more information.
Q. Do you sell executive chairs compatible with these desks?
A. You'll find high-quality executive chairs on our website that are a perfect match with our desks. Most executive chairs are height adjustable, which means you can find a unit that fits you perfectly. However, the chairs in the images showcasing our desks are not included in the package – they must be purchased separately.
Q. Do you sell monitor stands for these desks?
A. Yes! You can buy ergonomically designed monitor stands to reduce the amount of clutter on your desk. We have single monitor arms, or dual, triple and quad options if you use more than one monitor.