Office desks are very important within any office space and at Fast Office Furniture we endeavour to ensure that you get the right desk to suit both your decor and functionality needs. Manufactured with superior materials, our Fast Office Furniture desks will leave you feeling confident that you will receive the ultimate in durability and quality every time.
Browse By Features
Trending Office Desks for all your Needs
Give us a call on 1300 327 863 for more information about the desks we can supply to your office. Our trained customer service team have the experience to make good recommendations. We are experienced in supplying office furniture around Australia, with some of the best office desks on the market, at the best prices! So you can count on use to be your next supplier.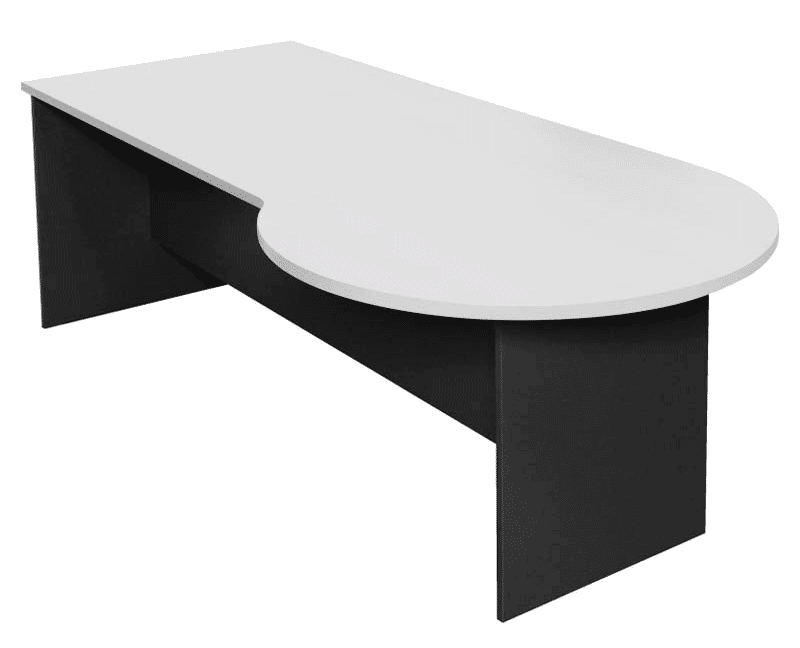 Are you shopping for new a office desk, but are having a difficult time choosing the right style? We can help you find the right office desks for your needs. On this page you'll find some of the top computers desks for home office desks in Australia. Our value for money options here means you don't need to buy elsewhere.
Shop Office Desks
Our Service Areas
Are you the type of buyer that likes to touch something before you buy? Then consider visiting one of our showrooms across Australia. In the cities of Sydney, Melbourne, Adelaide, Brisbane and Perth you'll find showrooms conveniently placed where you can inspect our office furniture for yourself. You can also ask our customer service staff questions about aspects of the office desk.
Think about the vital buying considerations before pressing on the buy now button. The factors we cover here includes price, build quality, visual aesthetics and practicality. We want you to buy the best office table to suit your needs, so please consider each of these factors.
Top 4 Buying Considerations for Office Desks
Consider the location of your new desk and the person that will be using it. Answers to these vital questions can help you visualize the right office desk for the job. For example, if a tall person will be sitting at the desk in the corner of the office, then you may need a higher, or height-adjustable corner desk. Matching the desk with the required use can help you choose the right model.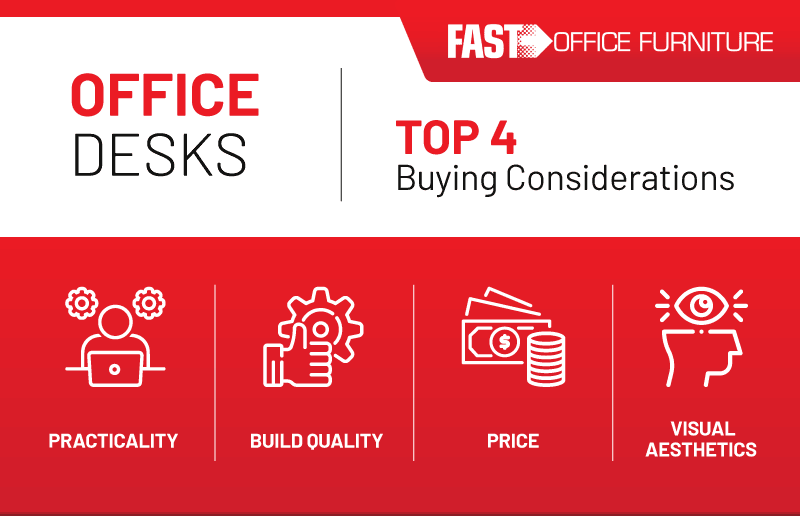 1. Practicality – Choose a useful desk
Your office desk must be fit for purpose so your employees can work effectively. Productivity levels can increase when your office employees are kitted out with the right equipment. Here are a few practical features to consider:
• Storage Compartments: Desks that come with storage compartments allow office employees to get organized. Tables can have shelves above the desk height and drawers to the side. Storage compartments come at an extra price and they take up more space. However, allowing workers to get organized might be a big productivity booster for some type of office jobs.
• Cable Management: Loose computer desk cables can create a lot of clutter around the office, and can be a tripping hazard and therefore dangerous. Office desks that come with holes for cable management is a good features. Under desk cable management baskets are also a worth considering.
• Height Adjustable: There is a lot of research to show that sitting down at your desk all day is not good for your health. Therefore, standing desks have been designed to help alleviate the problem. Consider buying a height adjustable, or sit to stand desk to give your employees an easy alternative to sitting all day.
2. Build Quality – How Long will it Last?
Do clients frequently visit your offices? Then you want furniture that will not show signs of wear and tear easily. Office desks are typically not a build quality concern. All our office furniture desks are constructed using heavy duty, commercial quality components, so we can be sure that each of our products will last for many years. Our long warranty periods demonstrate this.
Consider the warranty length of each desk to figure out how much faith you can have in the longevity. Longer warranty periods are great, and show the confidence the manufacturer have in their products. You can view the warranty length of our furniture by taking a peek at each product description or hover the mouse over the desk of interest.
3. Visual aesthetics – Does Style Matter?
Choosing a consistent furniture style is a good idea to present the right image to potential clients and visitors. Imagine if you walked into an office where the furniture choices were all over the place. Sticking with an interior design philosophy that's consistent can create a trendy looking office.
The furniture in our ranges offer a nice finish and there are different styles to choose from. You can give our customer service staff a call if you need help getting the right desk for your office interior décor.
4. Price – Can you Afford The Office Desk?
Make sure that you have the budget to kit out your office with as many desks as you need. We offer fantastic and unbeatable value for money and bulk pricing, which means you can find a great deal. Consider buying basic desk units without storage compartments to save money. You can always add storage units later on, once your office furniture budget increases.
Do you have a big budget? Then consider our height-adjustable desktop stand for your desk. If you're looking to purchase a standing desk for your company or home, you might find a guide useful. Browse our wide range of corner office workstation desks for small or medium workspaces.
Frequently Asked Questions
Screen divider desks are a good choice if you want to save office space. They allow a couple of people to sit either side of the desk. However, the amount of work space for each employee is reduced compared with other desk types.
It's important to match office chairs with the desk to ensure the employee is comfortable and has an ergonomic seating position. Read the product description to find out the desk height. Most office chairs are height adjustable so there is some room for error. Give us a call if you are struggling to find the right desk to match with your office chair.
Yes! They can help employees avoid getting distracted when working in groups. It also gives employees some privacy at the desk because the divider can block the view from others. Therefore, workers can work without feeling like someone is constantly watching them. Getting
screen dividers
is an alternative to cubicles that can work equally well while saving space.