Our Top Selling Height Adjustable Desks
Why choose us?
Are you searching for a height adjustable desk, but don't know where to buy? We offer some of the best height adjustable desks on the market at the most competitive prices. You'll love our large selection of sit to stand desks in our range. Our units are high quality, practical, customizable and help you be more productive.
Give our customer service department a call on 1300 327 863 for more information on how to buy the height adjustable desk that is the best match for your office. Take a few moments to ask us the questions that can help you make the right buying decision.
Visit one of our showrooms conveniently located in most cities around Australia. Visiting the showrooms can help you make the correct buying decision by getting hands on with the office furniture. Give each of the height adjustable desks a try to figure out the right model for your needs. It's a good idea if it's your first purchase of this desk type and you want to learn more.
Continue reading to learn more about the factors to consider when buying height adjustable desks. The aspects of the buying decision we cover include adjustability, price and build quality. You'll buy the right standing desk in Melbourne and Sydney when each of these factors is taken into account.
Height Adjustable Desks Buying Guide
Where will the height adjustable desk be used? Who will be using the desk? How often will you work standing up and sitting down? Answer these questions to focus in on the required features. For example, if a tall individual is using the desk, then you need to look for height ranges with a high upper limit.
The table location determines various aspects of the buying decision. You'll need a quiet mechanism if surrounding employees need to work in silence to be productive. Give us a call if you don't know what vital questions must be answered.
1. Adjustability and practicality
The desk must be at the right height so that you can work ergonomically. Here are a few things to think about when determining how applicable the desk is to your work situation:
• Adjustability: The desk height must be set to the level where you are comfortable. Therefore, the mechanism should allow you to stop at specific heights instead of only offering a couple of levels.
• Noise level: Some standing desk mechanisms can be fairly loud, which can be distracting for other office workers. Opting for one of our quiet height adjustable desks is a good choice and we have plenty of those.
• Good for sitting: The desk must also be ergonomically designed for sitting so you can switch between positions quickly and easily. Therefore, you can sit for 2 hours and then stand for the next 2 hours. Alternating between positions will help you keep productive and avoid repetitive strain injury.
Or, consider buying an adjustable desk stand, which is a piece that you can place on top of your existing desk. These are a good choice if you like to keep the desk you already have, but want to work standing up from time to time during the day.
2. Build quality
Inspect the build quality and the height adjusting mechanism in particular. You'll want to avoid the type of table where the mechanism if of poor quality and unreliable. Consider visiting one of our showrooms so you can inspect the high quality mechanisms for yourself. You can also adjust the desk height to give the product a try and see if it's suitable for your office.
Take a closer peek at the warranty period to assess if the unit is built to last. Manufacturers tend to offers longer warranty deals on products they have confidence in. The warranty length of each height adjustable desk is written in the product description.
3. Price
We offer a range of prices to cater for all budgets. It's important to stay within budget so you can also buy other office furniture that you may need. Need to fill a large office space with a larger quantity of standing desks? Then consider taking advantage of our bulk order pricing. You can save a lot when ordering for a large office or several smaller ones across Australia.
4. Visual style
You'll notice that the height adjustable desks in our range do not compromise in the style department. We have sourced beautifully looking desks that can improve the overall look of your office environment.
Make sure you keep in mind the interior décor of your office when choosing a suitable desk. The desk stands we offer have a generic look that are more about function than style. However, you can match the colour to that of your desk to blend in. Give one of our customer service staff a call if you need help choosing a suitable style for your office.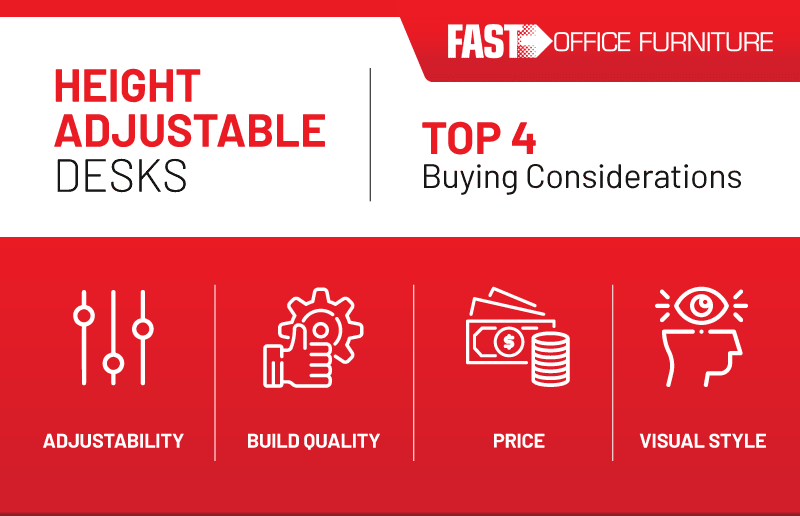 Frequently Asked Questions
There is a mechanism that allows you to alter the height and each one is different. You can read about how to activate the mechanism in the product description. You can also visit one of our showrooms to give each of the desks a hands on try for yourself.
This depends on if you have a desk already that you'd like to leave in the office. If that's the case then buying a stand makes sense since you can place the stand on the desk. However, if you like the look of the height adjustable desks in our range, then consider buying one of those.
You could also buy just the desk frame, and re-use your existing desk top. Please call us for more information.
Stands are cheaper since they require less material to manufacture. Desks are the whole package and offer more versatility since you can choose to work sitting down or standing up. If you don't have a desk already then you could buy a height adjustable desk since it's a 2 in 1.