Commercial Quality Office Furniture South Melbourne
Fast Delivery and Assembly Available
Enter your postcode in the form below and press 'Enter' to see if we deliver to your area
Buy Office Furniture in South Melbourne
As the highest ranking suburb in Melbourne for culture, retail and employment, South Melbourne is a hub of business activity with a vibrant culture. As the south area of the capital of Victoria, it's only natural that so many people flock towards this economic and cultural epicentre.
Where offices go, so do we. With our tactical positioning of warehouses across the country, including one in Melbourne, we can despatch a plethora of furniture items quickly and efficiently. We service individuals and companies all over the area, including South Melbourne.
We have many happy customers who have strong ties with us to this day, and we're proud to say that many of them are in the South Melbourne area. Contact us and you will quickly see why we are a leader in the industry and consider making Fast Office Furniture your main supplier of all things office furniture.
What Office Furniture Do We Provide?
To answer the question simply – everything. We know that an office is made up of many different things, and that office furniture can be diverse and plentiful. We've made it our mission to provide everything that an office needs so that you can get all of your furniture from one company.
Here are some of the types of furniture we tend to focus on.
Chairs
What's an office without a reliable,
ergonomic chair
for each team member? At Fast Office Furniture we value three main things when it comes to all the chairs we sell; comfort, durability, and price. The world is just switching on to the true value of utilising ergonomic chairs and all of the physical benefits that come with them. To this end we offer comfortable, durable and affordable ergonomic chairs in a variety of styles.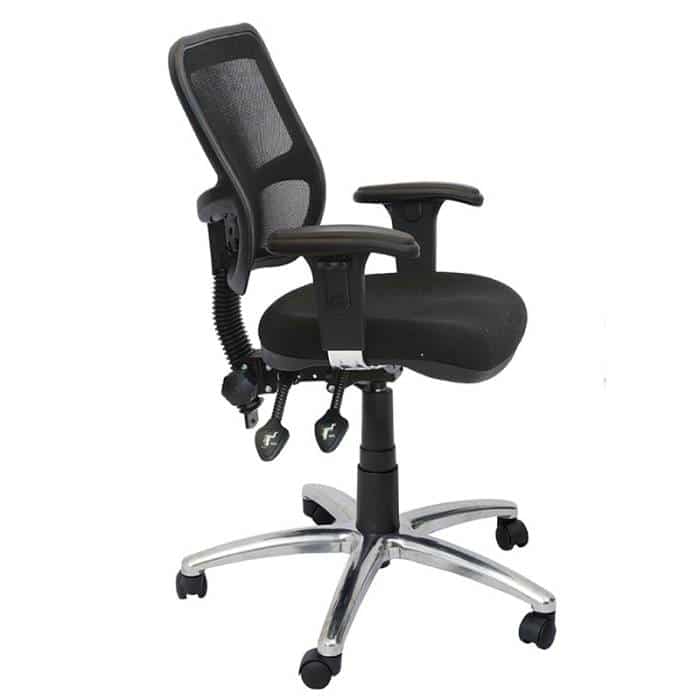 Our stock doesn't stop at desk chairs however, we have seating solutions for meeting rooms, for entertaining clients on comfortable leather seats, for sitting at the bar and everything else you could imagine. Whatever your seating needs may be, we will go out of our way to find the right option for you.
Storage
Less is more, especially when it comes to disorganised office clutter. A messy stack of paperwork or a tangled knot of cables can be enough to make anyone frustrated, and frustrated employees are certainly less productive.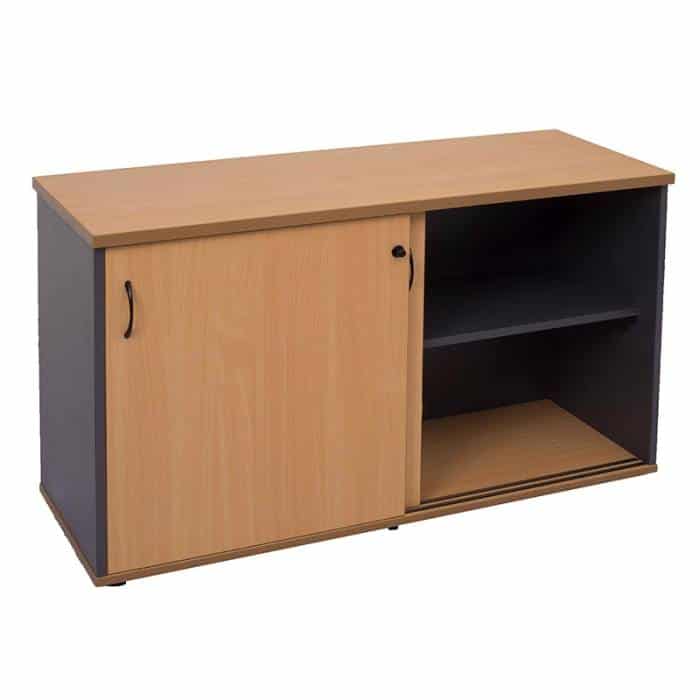 With our
storage
solutions you can utilise drawers,
filing cabinets
, lockers and various other options to keep your items stored correctly and keep your space organised.
We even offer accessories to make your life easier, like cable trays under your desk, to screen hung storage to tambour door cupboards with planters to keep the office looking fresh and green. Just ask us – we can assist with all your storage needs!
Desks
Whether you're typing away on a computer or flicking through paperwork, you'll find your job much easier with a top quality desk at your disposal. A nice polished surface with soothing colours can make all of the difference to how you or your employees feel on any given day.
With our wide range of desks, you can have all the space you need. We have height adjustable desks in stock to optimise individual working preferences, as well as workstation pods which can be used to save space in the office while keeping everyone focused. Don't forget that a quality reception desk can also do wonders regarding your business's image and first impression.
Our Furniture Ranges
Each of our furniture ranges is designed with a certain office atmosphere in mind. Feel free to browse through all of them to find a general design and colour scheme which matches the vibe you want to create in your office. Consistency is key when it comes to office decor, so when in doubt, just ask us for assistance and we will find a furniture range that's right for you.
Utilising a range of furniture which complements your décor, can make an office feel warm and welcoming. For furniture which really accomplishes this, have a look at our Milana Furniture Range - complete with a black and accented timber colour scheme with a timeless furniture design.
Visit Our Showroom
Our Melbourne showroom is available for anyone who prefers to see the furniture up close. While we can assure you that all pictures and product descriptions on our website are accurate and reliable, we can't blame people for wanting to see the quality and workmanship for themselves.
Like all of our showrooms, we do require that you first make an appointment so that we can ensure an optimum experience specifically for you. Schedule a visit by contacting our main office at
[email protected]
or by phone on 1300 FAST OFFICE (1300 327 863).
Once you've arranged a time and date, come on down to Building 3B, 9-19 Leakes Road, Laverton North, Victoria 3026 and see the furniture that we're so proud of with your own eyes. Our experienced warehouse and showroom staff will be happy to help you with any needs and questions you may have.
Why Shop with Us?
When people think about premium office furniture, they normally associate it with a premium price tag. We don't believe that this is necessarily true in this modern business world. We value our customers and believe that everyone should be able to afford strong, durable office furniture which is great quality, without breaking the bank.

Many of our customers say that the reason they shop with us is our ethos of complete honesty and transparency. We'll always give you all of the relevant information in advance, and we won't be sneaky and charge you unforeseen additional costs at the checkout. Look at our reviews and see why we're considered one of the best suppliers of office furniture in all of Australia.

Frequently Asked Questions
We believe all questions are valid questions, and encourage all of our customers to check our FAQ page or to email us if they have any queries regarding our products or services. To save you some time however, we've compiled a few of our most asked questions and answered them below.
Q. Does Fast Office Furniture Deliver To South Melbourne?
A. This question receives a resounding yes. Due to the close proximity with our Melbourne warehouse, we're able to get furniture to South Melbourne quickly and efficiently. Being in the metro area has its advantages, and we'll be able to send anything you purchase directly from our warehouse straight to your office door.
Q. Why Are Ergonomic Chairs Important?
A. Though many people don't realise it, there's a right way and a wrong way when it comes to sitting down, especially at a desk for long periods of time. Ergonomic chairs help to support your body's natural resting position while keeping you upright and comfortable and offering the right support so that you don't suffer from back or neck pain further down the road.
Q. Do Private Companies Receive Any Benefits
A. Private companies are able to apply for a credit account by contacting our main office and completing a simple form. While our usual Terms and Conditions require payment up front, a credit account allows companies a 30 day leeway on payments. Contact us to discuss further if you are interested in this option.

FINALISTS IN THE TELSTRA AUSTRALIAN BUSINESS AWARDS
Trusted by many of Australia's leading organisations…