The filing cabinet is an essential piece of furniture that every office needs, to be able to store and safeguard their office files and document. And if your office still uses a standard desk drawer as its primary storage, I believe it is probably time to consider investing in a filing cabinet. Thinking about it, it is much cheaper than the value it gives you.
Meanwhile, buying filing cabinets from Melbourne Office Furniture might be a little tricky, considering the wide varieties of filing cabinets available. This is not limited to sizes and shapes, but also the materials. While some people will love a filing cabinet that can easily fit under office desks and blend with their office decor, some people want something big and strong that stands out in their office.
Whichever the case might be, it is important you consider some important factors like the size and quality of the office drawers before choosing your filing cabinet. You must ensure the filing cabinets are wide enough to contain legal-size documents without folding them. Plus, you need to consider your office space to know the best office drawers that will fit your office without taking too much space.
To make things much easier for you, we have come up with some excellent filing cabinets that will give you all the essential features you need in your Melbourne office.
1. Aspect Fixed Drawer Unit 
This Aspect Fixed Drawer Unit filing cabinet is not only top quality but also well designed, modern, and made from top quality materials. The cabinet has an elegant design with a cool timber grain and White finish to make it blend perfectly to any office decor. Moreover, these filing cabinets come in two similar designs; one with three personal drawers, while the second one features two drawers, a large bottom drawer for keeping legal-sized documents, plus a small top personal drawer for keeping regular office bits and pieces.
The Aspect Fixed drawer is a little big for very small office desks, however, it is sturdy and durable enough to stay on its own and not too big that it will take up all your office space.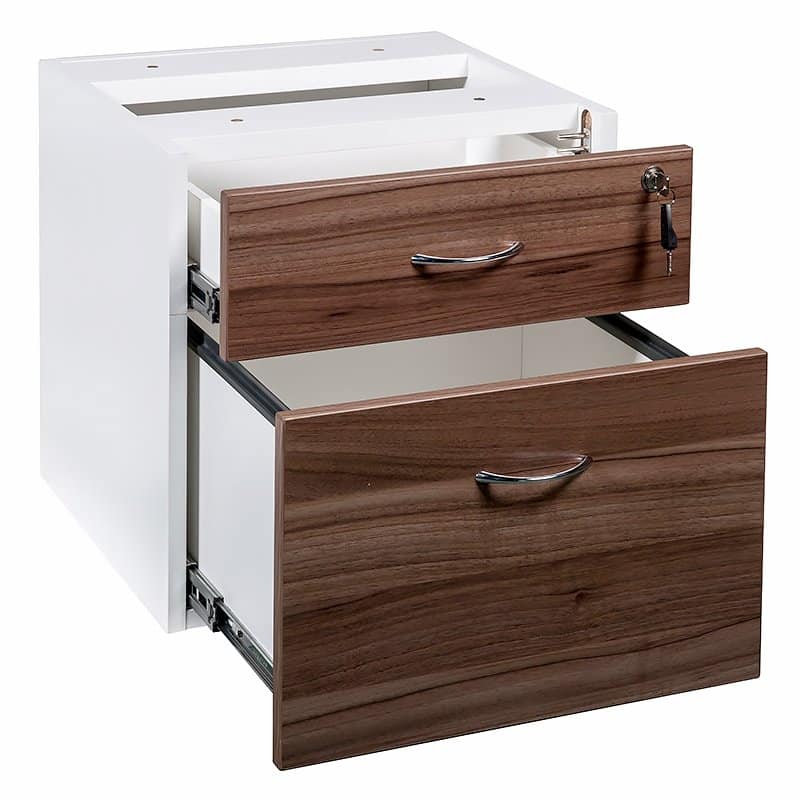 | | |
| --- | --- |
| Size | 450mm h x 4654m w x 400mm d |
| Colour | Casnan and White Melamine |
| Warranty | 3 Year |
| Price | $219.00 |
2. Aspect 4 Drawer Filing Cabinet
This stylish and straightforward filing cabinet is made of heavy duty materials, and fitted with an anti-tilt mechanism. It is designed in modern, contemporary Casnan and White melamine colours, with a smooth surface which makes it look fresh, and at the same time classic. The Aspect 4 drawer filing cabinet offers enough room to arrange your files and document accordingly – with different sections.
Furthermore, this 'wallet friendly' office drawer unit will save your office a lot of space, and its unique presence makes it look elegant and stands out. Plus, the metal drawer runners make it strong and durable enough to carry heavy and bulky files.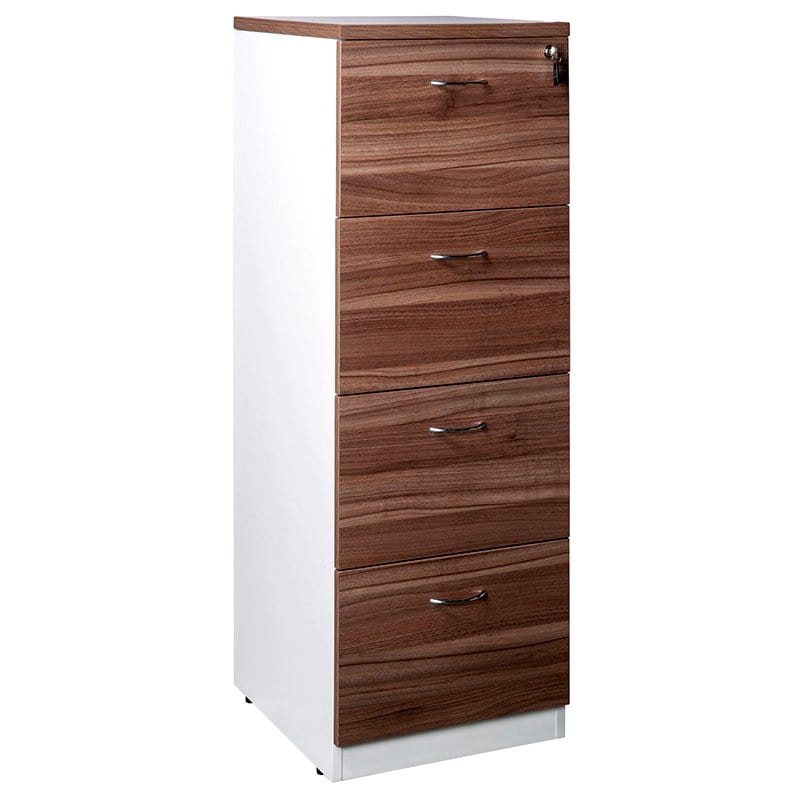 | | |
| --- | --- |
| Size | 1320mm h x 468mm w x 510mm d |
| Colour | Casnan and White Melamine |
| Warranty | 3 Year |
| Price | $219.00 |
3. Director Executive Mobile Drawer Pedestal
The Director Executive Mobile Drawer Pedestal is a high quality and durable office file container designed to store standard files plus a small space where you can keep your regular office supplies and stationary needs. Undeniably, the Director Executive mobile drawer pedestal is a bit bigger than usual, with an overall size of 540mm high. Nevertheless, it is highly functional, offers a lot of great features which makes a stand out among its peers. And if you are short of space in your office, you can also use it as a stand for TV or printer etc.
These filing cabinets are available in different classical colours, including Casnan and White, or Virginia Walnut and Natural White melamine. This allows you to pick your preferred colour choice, or the one that matches with your office décor the best. And of course, it is very durable and will last you for as long you want to use it.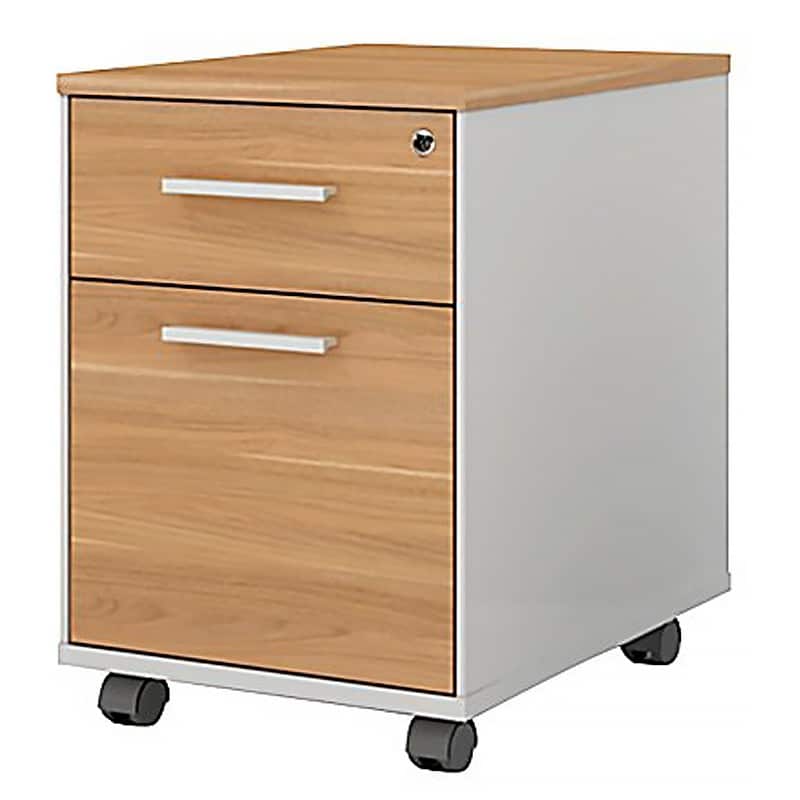 | | |
| --- | --- |
| Size | 450mm h x 4654m w x 400mm d |
| Colour | Casnan and White, Virginia Walnut and White melamine |
| Warranty | 5 Year |
| Price | $341.00 |
4. Dura Compact Metal Mobile Drawer Unit
The Dura Compact Metal Mobile Drawer Unit is a simple and inspiring filling drawer with organized storage space. It is made up of hard wearing steel in a powder coat finish, with lockable castors, plus a 5th castor (at the front) for added stability when the bottom file drawer is open. This elegant filling storage unit features two personal drawers space for regular stationary activities and a bottom deep file drawer designed to keep standard suspension files.
The Dura compact metal mobile drawer unit is very portable and can fit under a standard office desk. Moreover, it has a full extension ball bearing drawer slides which makes it possible to open and close the drawers very smoothly – even under weight. It's available in three popular colours – Silver, White and Black, all in a beautiful and modern satin finish – giving you multiple choices to choose from.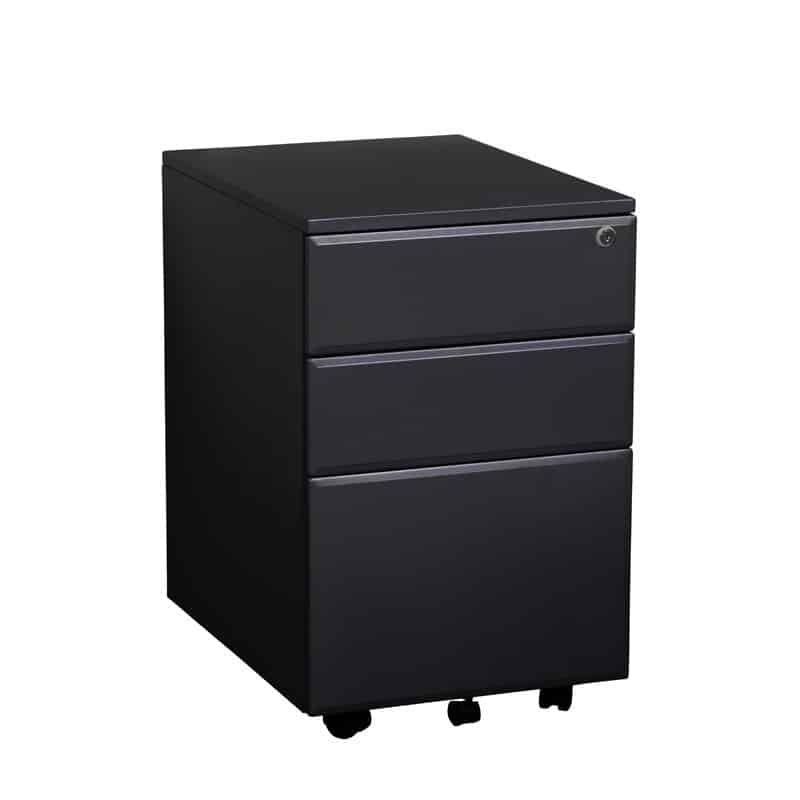 | | |
| --- | --- |
| Size | 620mm high x 400mm wide x 520mm d |
| Colour | Satin White or Satin Black |
| Warranty | 5 Year |
| Price | $219.00 |
5. Executive Fixed Drawer Unit, 1 Personal, 1 Deep File Drawer
This unique and excellent office drawer unit features two drawers – a bottom deep one for legal-size documents and a personal one for regular office supplies. It is made up of Birch and Ironstone colours, using topnotch quality materials which makes it a timeless design office filing cabinet. Its shape helps it to fit your office easily, and it can also be used as a closure to your desk, and extra storage on top.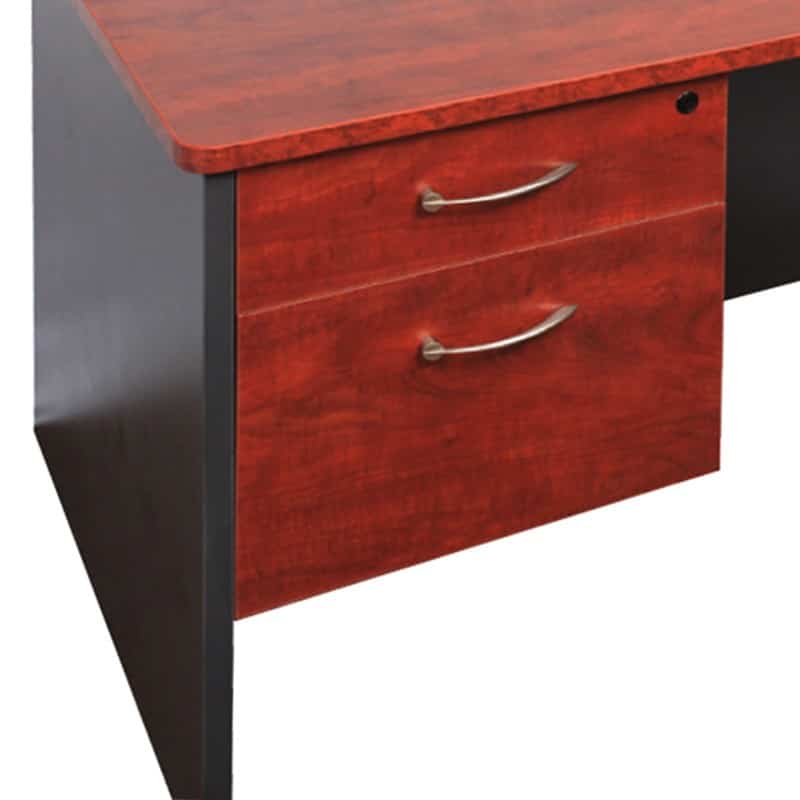 These filing cabinets are built using heavy duty commercial quality melamine materials, which makes it very durable and can serve you for many years to come. Plus, it has a lock system fitted that secures all the drawers.
WRAPPING IT UP
Office filing cabinets are necessary item of furniture, choosing the best type is much more important. There are a lot of factors you need to consider when choosing your new office drawers.
Space: Ensure you choose a cabinet that will easily fit in your office space and still leave room for movement around it.
Storage capacity: It is very important you choose a filing cabinet that has enough space to fit what you need in it, and keep all your office materials safe and secure.
Construction: Filling cabinets are made up of different material like timber, steel, melamine and plastic. Ensure you choose a filing cabinet that's made of quality material and durable enough to serve you for many years.
Locking mechanism: it is great to buy a filing cabinet with quality locking mechanism fitted. This will help you to protect your documents.
Ease of assembly: While some filing cabinet is delivered pre-assembled, some filing cabinets do require assembly. Ensure you buy one that can be easily assembled within a reasonable time frame.
All the listed filling cabinets are available for sale in our online Melbourne store. You can be sure that all our furniture is manufactured using top quality, heavy duty materials. Plus, they all come with three, five or ten year warranties. You can also browse through our website and check out all our other office drawer units and filing cabinets.