Recently, ergonomic chairs have been a hot topic, with many saying they need the extra support to feel comfortable enough to work a full shift.  Not only is the adjustable height, depth, and lumbar support important for comfort, but an ergonomic office chair can also help with your long-term back and neck health in ways that the average office chair can't.
These are the top five economically correct executive office chairs out there: and why they should be your first choice when chair shopping!
1. Detroit High Back
If you want a chair as stunning as possible that can come in a huge range of colours and patterns, you'll love the Detroit executive high back chair.  This chair looks like it was taken out of a high-class lounge in the 1970s and given a modern twist.  A mix of modern and retro, this chair has a tall solid profile covered by a comfortable fabric of your choice.  Ranging from more plush fabrics to mesh and even leather: you get to pick the colour and style of your chair so that it suits your tastes perfectly.
Plush high-density foam makes up the chair and backing, making this luxuriously soft and comfortable to sit in, and the polished alloy arms are upholstered as well so that you can rest your elbows without worrying about hurting your joints.
This is one of the most comfortable office chairs you'll find out there, with a unique look and attention to detail that's hard to replicate.  The wheels on the five-star spider base slide and glide easily, aiding you as you go from task to task throughout your day.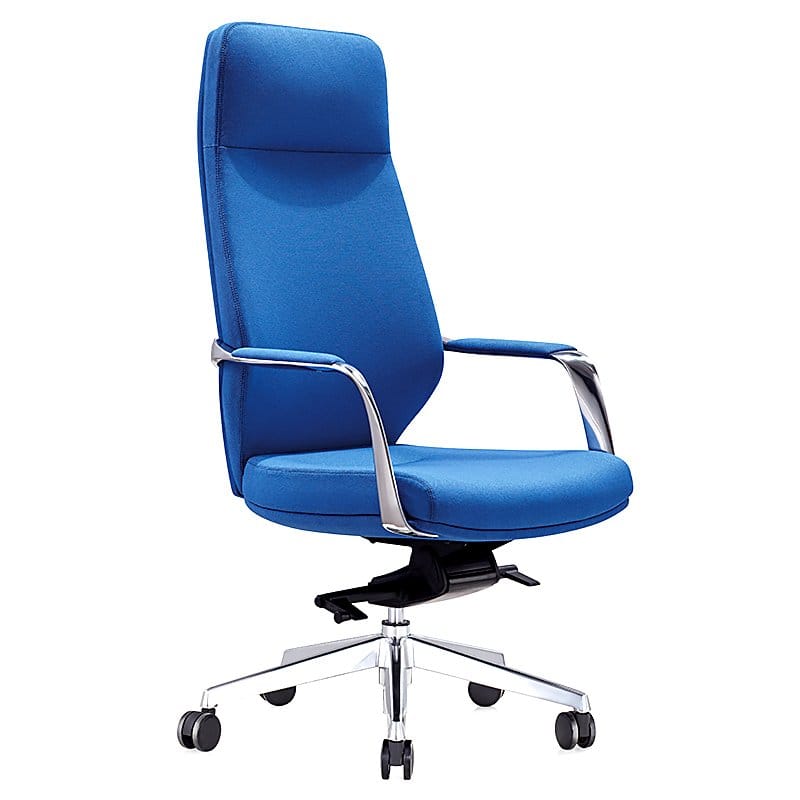 | | |
| --- | --- |
| Warranty | 5 Years |
| Colour | Blue, Loop Red, Loop Dust, Loop Red, Jazz Navy |
| Weight | 120 Kg |
| Price Range | $963.00 |
2. Chicago Promesh High Back
The Chicago promesh high back chair is a one of a kind seat that allows breathability, comfort, and a crisp look you can't find in other executive office chairs.  The tall three-part back ensures that every part of your back, neck, and head are cradled and comfortable, while the mesh material keeps you from overheating no matter how hot the summer gets.  The supportive, comfortable seat, and adjustable-height arms, are both great for any professional.
This chair understands the importance of comfort because it's heavily customizable, allowing you to change the height, fit, and ease of every portion of it until it fits exactly how you want it to.  From the seat slide mechanism that shifts it forward in increments to the adjustable active lower lumbar support, every function of this chair considers the user's comfort above anything else.  The more cozy your chair is, the better your work will turn out, and the less distracted you'll be!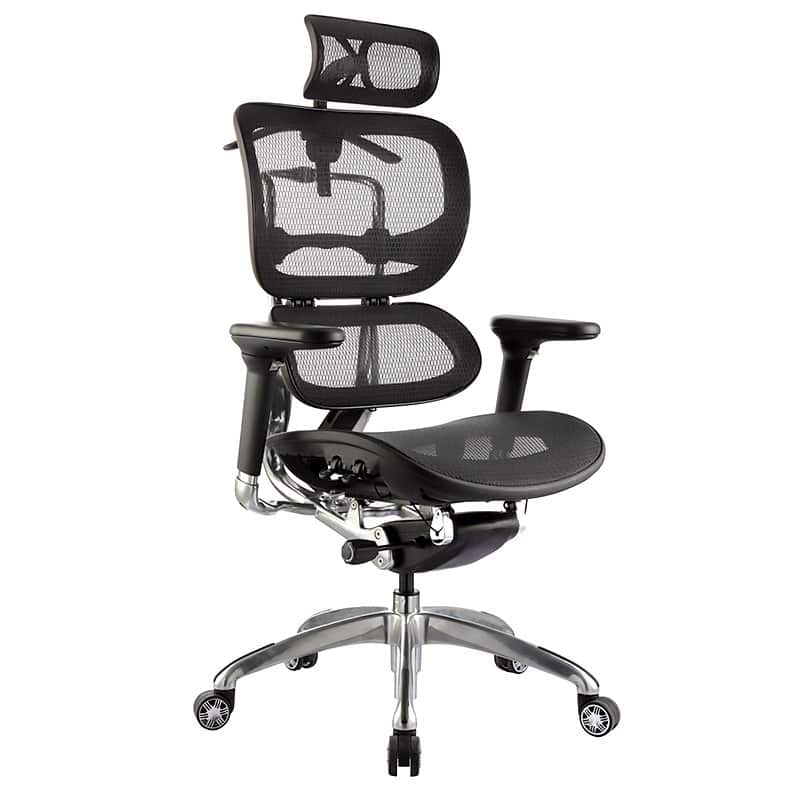 | | |
| --- | --- |
| Warranty | 5 Years |
| Colour | Black |
| Weight | 120 Kg |
| Price Range | $969.00 |
3. Tough Extra Heavy Duty High Back
If you wanted a chair that's built to last: this one is rated for 24/7 use, meaning it's there to cater to even the most severe workaholic.  The great moulded foam back and adjustable headrest allow you to sit back and feel cushioned, while the heavy-duty gas lift and synchronized multi-position lock and free float mechanism ensure you can sit your chair at whatever height and position works best for you.
Double steel reinforcing in both the seat and back ensures that it's secure, which is awesome because this chair is rated 160kg, meaning it's heavy-duty and able to handle any executive.
The sleek shape of this chair sets it apart from others, looking equal parts professional and shapely, as well as the command to ensure that you have your employee's attention when they come in to talk to you and you're working.  Every part of this awesome chair is made for comfort and hard work: so it's a great choice.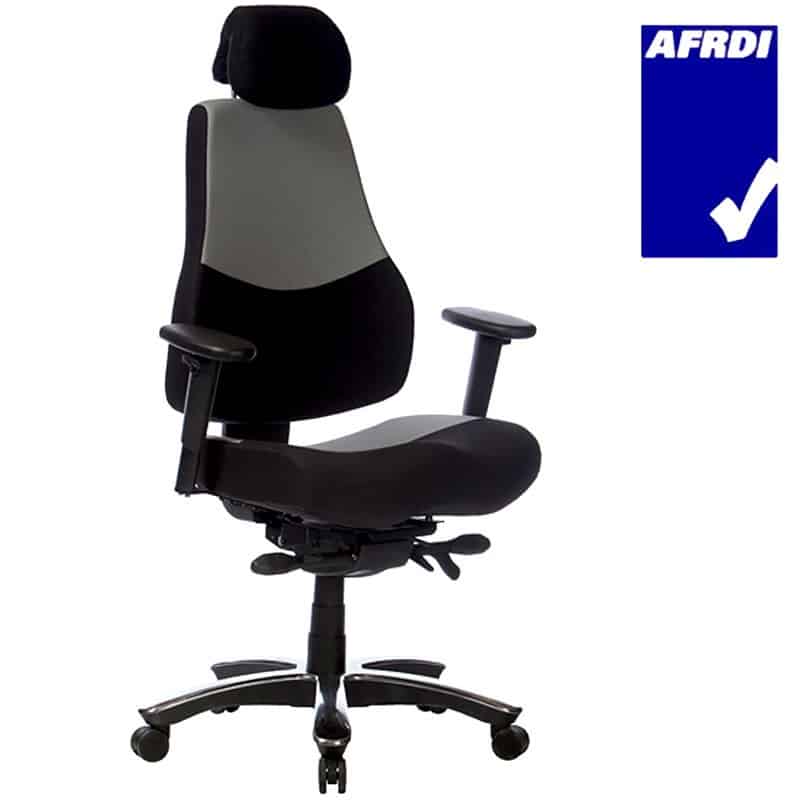 | | |
| --- | --- |
| Warranty | 7 Years |
| Colour | Black, Grey |
| Weight | 160 Kg |
| Price Range | $1,044.00 |
4. Milana High Back
The Milana High Back is a chair that mixes modern shapes with the classic look of beautiful timber.  Zebrano timber veneer arm panels allow the Milana to be both striking and commanding as you sit in it.  Premium quality super soft black leather allows an attractive touch that's hard to deny, and even better: it is incredibly comfortable to sit in.
The large seat size, mixed with tension control and a gas lift, multi-position lock, and free float mechanism, allows for a one of a kind fit as you get to work.  With a five year warranty and the high-level construction it offers, you can rest assured that this chair will outlast anything.
The striking look it offers suits its place in the Milana furniture range not only because of the beautiful Zebrano timber veneer but also because of how beautifully shaped it is.  If there were any chair on this list that would suit a captain of a team or a leader of a company: this chair would be the absolute best fit.  The comfort and attractive looks it offers ensure that this is a one-of-a-kind office chair.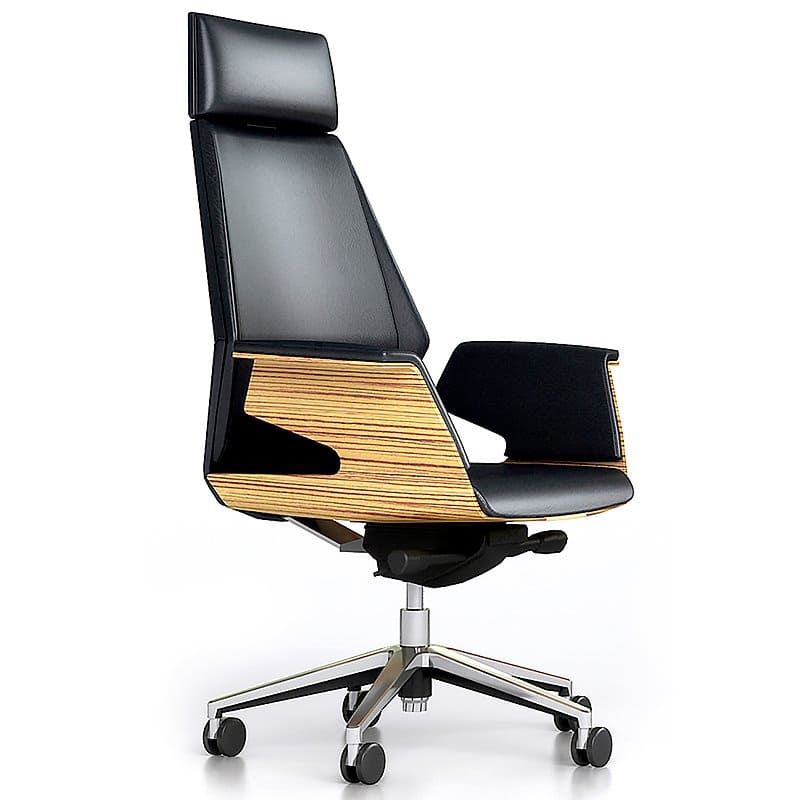 | | |
| --- | --- |
| Warranty | 5 Years |
| Colour | Black |
| Price Range | $1,107.00  |
5. Director High Back
If you want a high quality constructed chair with soft tan leather that gives off a look of comfort and prestige: the Director High-Back is the office chair for you.  This awesome seat has a sharp look, with an artsy silhouette and a warm tan colour; it would fit into any executive office.
The white outer back and under-seat allow a high-class clean-cut look, and the generous seat size ensures you'll be comfortable sitting however you want to.  With a gas lift, multi-position lock/free-float mechanism, and an option for tension control, you can find the perfect position for your height and comfort.
The five-year warranty on this chair will let you work in comfort for as long as you want, and the gorgeous look of this chair will make it so that your office feels like a coveted and expensive space while allowing you to be as comfortable as possible.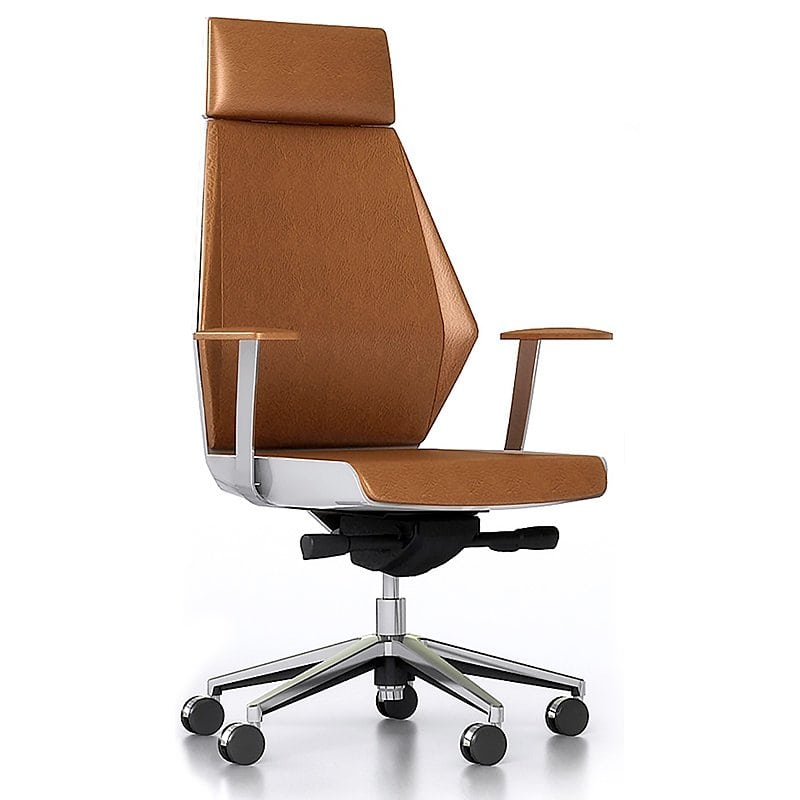 | | |
| --- | --- |
| Warranty | 5 Years |
| Colour | Tan leather |
| Weight | 120 Kg |
| Price Range | $1,114.00 |
The Right Chair Can Change How it Feels to Work.
Nobody wants to live at their job and do it constantly: but the right ergonomic office chairs can support your back so as to ensure that the work feels easier to do. Any of these ergonomically correct executive office chairs can be an awesome choice for you, so take your time to make your choice correctly and find the one that will keep you comfortable and busy!